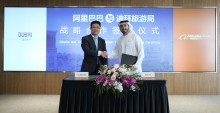 Dubai's Department of Tourism and Commerce Marketing (Dubai Tourism) has signed a Memorandum of Understanding (MoU) with Fliggy, the online travel service platform of Alibaba Group. Aimed to boost the number of Chinese tourists visiting Dubai, the MoU was signed by Issam Kazim, CEO, Dubai Corporation for Tourism and Commerce Marketing (DCTCM) and Jerry Hu, VP, Fliggy and Alibaba Group, as part of a broader long-term alliance discussion at the Alibaba headquarters in Hangzhou in China.
The MoU entails among other aspects, collaboration between the partners to deliver an enhanced travel experience for Chinese visitors to the emirate by providing easy access to Dubai's travel products and information, initiating a payment scheme, etc. In addition, Dubai Tourism would continuously maintain and update the 'Dubai Destination Mall' page on Fliggy, providing a comprehensive overview of the city's tourism proposition to the broad customer base that Fliggy delivers.
As a major online travel platform in China, Fliggy is a strategic travel partner for Dubai Tourism within China, allowing Dubai's entire travel and tourism ecosystem to set up and operate their own 'shop' on the Fliggy virtual marketplace. Additionally, being extremely popular amongst the younger generation of Chinese tourists, Fliggy is an even more relevant partner for Dubai as there is a clear priority to build a strong base within this segment as potential visitors to the city.