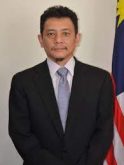 Tourism Malaysia announces its participation at the 2021 edition of the annual Arabian Travel Market (ATM 2021). Set to take place from Sunday, May 16 to Wednesday, May 19 at the Dubai World Trade Center (DWTC), the Arabian Travel Market marks Tourism Malaysia's first physical event since the onset of the Covid-19 pandemic, highlighting the importance of the relationship between the two nations for Malaysia's tourism sector.
H.E Ambassador of Malaysia to the United Arab Emirates, Mohd Tarid Bin Sufian, stated, "Malaysia has been one of the strongest supporters of the Arabian Travel Market since its inception. Malaysians share many common cultural and religious ties with the people in the region including in promoting tolerance and unity. Discovering Malaysia would bring people closer together and understanding as exemplified by the leaders of the two countries through the exchange of visits including by the Majesty the King Al Sultan Abdullah of Malaysia and Tan Sri Muhyiddin Yassin, Prime Minister of Malaysia to the UAE as well as by His Highness Mohammed bin Zayed Al Nahyan, Crown Prince of Abu Dhabi and Deputy Supreme Commander of Armed Forces of the UAE to Malaysia recently. These cooperation are further bolstered with Malaysia participation in the coming EXPO 2020, where we aimed to further promote tourism, create more business opportunities and boost bilateral relations with the UAE."
He added "When Malaysia opens its borders, it would welcome again visitors by putting in place the new norms for the hospitality industry to comply with relevant SOPs for Covid19 in ensuring the safety and wellbeing of the people and visitors alike. See you soon!"
Actively supporting the preparations of Tourism Malaysia for the upcoming Arabian Travel Market, Mohd Hasril Abdul Hamid, Consul General of Malaysia in Dubai says, "Although the travel restrictions limited the number of our industry players presence in ATM 2021 physical event but majority of them are still maintaining their presence and interest in the Middle East by participating in ATM 2021 virtual event under the Tourism Malaysia Pavilion."
Shahrin Mokhtar, Director of Tourism Malaysia – Dubai, commented: "It's impossible" said the pride, "It's risky" said experience, "It's pointless" said reason, and "Give it a try" whispered the heart. With uncertainty comes opportunity, therefore we take the first step to participate in the physical ATM 2021.
Mokhtar added, "Tourism Malaysia will always open the possible doors to promote Malaysia to the international market. This year we launched Malaysia Specialist Certified Programme (MSCP) to educate travel professionals in the Middle East on in-depth destination information to become certified Malaysia travel experts. Conducted by Malaysian destination experts from tourism boards of Penang, Melaka, Selangor, Sabah, Sarawak, and Langkawi Development Authority (LADA), the programme comprises a series of six webinars, spanning one hour per session from 9 to 25 March 2021, designed specifically for travel agents. The MSCP is a part of Tourism Malaysia Dubai's initiative born out of the COVID-19 pandemic besides the hashtag for this year, #WeMissYou, to let the tourists know that we are eager to see them again in our beautiful country."