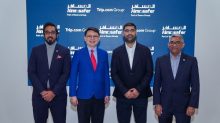 Almosafer and Trip.com Group are expanding collaborations to pioneer unique holistic travel experiences for tourists and visitors to the Kingdom of Saudi Arabia and make the destination more accessible to global markets. The collaboration aims at enhancing inbound travel by promoting the Kingdom as a top-tier travel destination in the region. The collaboration will also fortify corporate travel across the Middle East and boost inbound tourism from Asian markets. Leveraging the comprehensive range of travel services offered by Almosafer, together with the global reach and cutting-edge technology and data aggregation abilities of Trip.com Group, both industry giants will open exciting opportunities for travellers and strengthen the tourism landscape of Saudi Arabia. Building on Almosafer's regional expertise and deep understanding of the needs and preferences of visitors in the region and beyond, Trip.com Group will increase visibility of the immersive and enriching tourism experiences in Saudi Arabia across its data-led and technology-driven platforms.
Muzzammil Ahussain, CEO, Almosafer, said: "As Saudi Arabia's leading travel company, Almosafer remains committed to bring guests and visitors seamless travel experiences and support them in making informed decisions to easily access the Kingdom's unique attractions. In line with our digital first approach, we are excited to expand cooperation with Trip.com Group to further this goal and support the ambitious tourism mandate of Saudi Vision 2030. The partnership will give Saudi Arabia higher visibility in both regional and global markets and together, we aim to elevate Saudi Arabia as a captivating destination for all age groups and interests."
Boon Sian Chai, Managing Director and Vice President of International Markets at Trip.com Group, said: "We are excited to increase cooperation with Almosafer, to attract tourists to the beautiful destination of Saudi Arabia and transform the travel experience for global visitors. With our extensive brand portfolio and worldwide network, Trip.com Group is strategically positioned to enhance accessibility to the Kingdom and offer a seamless experience for inbound travellers. Trip.com Group is further an ideal partner for Almosafer Business in managing business and corporate travel across the Middle East, simplifying and streamlining corporate travel experiences."
Together with Almosafer's Destination Management Company, Discover Saudi, Trip.com Group will further explore collaborative opportunities to drive inbound tourism from Asian markets and offer a range of services for travel into and around Saudi Arabia through its extensive booking channels. An array of travel activities and experiences that showcase the rich culture, heritage, and natural splendours of the Kingdom can be curated through the portal of Almosafer Activities to enhance travellers' journeys in the region.