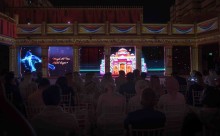 During the official announcement of the 8th Sharjah Light Festival set to take place from February 7-17, 2018, H.E. Khalid Jasim Al Midfa, Chairman, Sharjah Commerce and Tourism Development Authority (SCTDA) stated that this year's edition is expected to witness one million visitors at 18 different locations in the emirate that would display an interspersed inspiration from science, beauty and knowledge. The official announcement site this year was the unique heritage area of Al Hisn fort located in the area known as the 'Heart of Sharjah'.
Midfa added, "The SCTDA has been implementing strong efforts to boost Sharjah's position on the international tourism map by developing its potential and supporting all activities and initiatives that make Sharjah a rich, diverse and unique tourism destination."
The festival will include 23 shows covering 18 popular locations in Sharjah, curated by more than 24 artists from 10 countries. The festival is sponsored by Sharjah Municipality, Sharjah Police Headquarters, Sharjah Roads and Transport Authority, Sharjah Electricity and Water Authority (SEWA), Sharjah Civil Defense Department and Sharjah Government Media Bureau. Sahara Centre and Mega Mall are partners, while the Sharjah Media Corporation is the media sponsor.