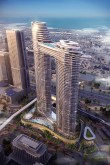 Emaar Hospitality Group has achieved an impressive milestone of 10,000 hotel rooms across its 11 operational hotels and 30 upcoming projects. The hotel rooms are spread over three hotel brands – Address Hotels + Resorts, Vida Hotels and Resorts and Rove Hotels.
Olivier Harnisch, CEO, Emaar Hospitality Group, said, "With over 10,000 rooms and counting, Emaar Hospitality Group has underlined its credentials as the region's fastest growing hospitality provider, delivering three distinctive lifestyle experiences that meet the diverse and shifting preferences of today's travellers. While we have a strong footprint in the UAE, we are also expanding our presence in international markets, delivering our homegrown competencies to high-growth markets."
The brand's vision is to be one of the world's leading hospitality providers whilst continuing to innovate on the choices they offer.