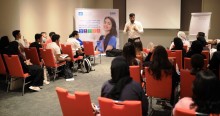 The Dubai College of Tourism (DCT), an institution established by Dubai's Department of Tourism and Commerce Marketing (Dubai Tourism) welcomes the first batch of students as part of the 'City of Gold' scholarship, awarded to first-year applicants enrolled for the Certificate of Retail course. As part of the programme, 20 Emirati and expatriate students have received fully-funded academic grants to cover their tuition fees throughout the year. Successful completion of the course will open doors to exciting career opportunities within the Dubai Gold and Jewellery Group (DGJG), a partner for this project, for all candidates, allowing them to enter the tourist-facing workforce with practical experience and valuable industry knowledge. The 'City of Gold' scholarship is part of DCT's ongoing industry collaborations and partnerships, providing students with hands-on training and access to industry expertise.
Commenting on the success of the scholarships, Essa Bin Hadher, General Manager, Dubai College of Tourism, said, "The 'City of Gold' scholarship programme is the first in a series of scholarships that DCT is committed to introduce to help build and nurture young talent. We are delighted with the success of the programme and hope to continue with our endeavour to further train young, eager Emirati nationals and expatriates and help them succeed in Dubai's rapidly evolving tourism industry."
The 'City of Gold' scholarship programme combines classroom learning with real-world experiences, offering students direct industry application in Dubai's expanding retail landscape. This works in line with DCT's overarching commitment to attract talented Emiratis and expatriate residents and help them explore rewarding career options in the tourism industry.