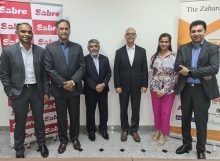 Zahara Travel, the leading travel management company in Oman, reaffirms its strategic partnership with Sabre Corporation , a leading software and technology company that powers the global travel industry. Furthermore, Zahara Travel signed a multiyear agreement to expand its technology scope with Sabre and recruit the latest technology solutions to enable its strategic goals.
Under this renewed and expanded agreement, Zahara Travel will continue to use Sabre Red 360, to deliver intelligent and consultative services to travellers, respond to evolving traveller demands and create compelling shopping experiences. The travel company will continue to access Sabre's marketplace of more than 400 airlines, 750,000 hotel properties, and hundreds of tour operators, rail, car and cruise providers, giving Zahara Travel the opportunity to sell personalized travel packages from suppliers all over the world.
"In such a competitive landscape, technology is important to maximize our efficiency and deliver our promise of providing a seamless and exceptional travel experiences," said Gautam Broota, Chief Executive Officer (CEO), Zahara Travel.  "For more than two decades, Sabre has been the backbone of our operations, thus we are expanding our relationship to deploy further technology solutions to support our strategy, advance our operations and enable our digital transformation to better compete in this complex landscape."
Zahara Travel will deploy a set of Sabre technology and solutions to drive growth, boost revenue and transform its business – including as Sabre Virtual Payment to manage the agency's payment and reporting capabilities; Content Services for Lodging to provide access to richer hotel and aggregator content; Automation Hub- to maximize efficiency and utilize resources; and Automated Exchange and Refunds to simplify the complexity of the day-to-day operations and drive operational excellence.
"As a key player in the travel industry, we continue to seek out latest solutions and capabilities to advance our customer offerings and experience," said Michelle Maxwell, Manager Travel, Zahara Travel. "Sabre will enable and enhance the capabilities that we provide to our customers and help us provide the value, choice, and experiences they envision."
Sabre has been working with many leading travel companies in The Sultanate of Oman to enable them to tap into the latest traveller trends and enrich the traveller's experience.
"Our new agreement and renewal with Zahara Travel is evidence of their confidence in Sabre and our technology," said Abdul-Razzaq Iyer, vice president, Sabre Travel Network Middle East. "We are excited to join Zahara Travel in its transformation journey and apply our expertise and solutions to support their plans.  We remain committed to equipping the agency with the most innovative solutions and capabilities to achieve its goals".