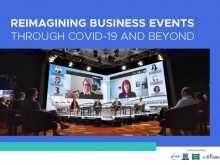 Singapore Tourism Board (STB), Professional Convention Management Association (PCMA) and UFI (The Global Association of the Exhibition Industry) have partnered to launch a white paper titled 'Reimagining Business Events – Through COVID-19 and Beyond'. Launched at the first hybrid Singapore MICE Forum x IBTM Wired at Marina Bay Sands on 28 June 2021, the white paper is the first such collaboration between a destination and leading associations representing the exhibitions, conventions and meetings industry. It takes stock of how various sectors within the industry have transformed in response to COVID-19, and consolidates ideas from around the world to help business event organisers rethink their offerings and operations.
The business events sector supported nearly 26 million jobs and contributed US$1.5 trillion to global GDP in 20171, which would rank it as the 13th largest economy globally, surpassing those of Australia, Mexico and Saudi Arabia. In Singapore, the MICE sector supported more than 34,000 direct and indirect jobs, with a value-add of S$3.8 billion, or close to 1 per cent of Singapore's GDP.
COVID-19 changed all that. In 2020, the global travel and hospitality suffered a staggering loss of US$935 billion, with the business events industry among the worst hit. The onset of the pandemic was a wake-up call for the industry, heavily dependent on physical interaction, to reinvent itself. According to PCMA's COVID-19 Recovery Dashboard survey (January 2021)2, the overall willingness to travel remains mixed, with 44 per cent of planners and 23 per cent of suppliers unwilling to travel.
However, there is cause for optimism. The same survey showed that 25 per cent of planners and 31 per cent of suppliers were willing to travel any distance necessary if the program was worth it. And for those who attended a recent physical event, 63 per cent of planners and 77 per cent of suppliers said it was worth all the additional precautions and safety measures and would do so again. More planners and suppliers are feeling hopeful – 69 per cent of planners and 64 per cent of suppliers shared this.
Revenues have also started to pick up in the exhibitions sector, which is expected to grow globally by 106 per cent this year compared to 2020. An evolving mindset across Asia-Pacific As the industry plots a recovery from COVID-19, the white paper highlights strong indications of growth and innovation in the Asia-Pacific.
Mr Keith Tan, Chief Executive, Singapore Tourism Board, said: "The pandemic has emphasised the need to innovate and be nimble in the business events sector. This journey of transformation is not a sprint, but a marathon that extends beyond the pandemic. As Singapore gradually scales up our capacity for larger business events, we hope that resources such as this white paper will continue to guide our local MICE industry to build new capabilities and reimagine the future of business events."
Mr Sherrif Karamat, Certified Association Executive, President and CEO, PCMA, said: "Our success in emerging from the pandemic is dependent on our ability to solve the transformational challenges of our audiences. The pandemic forced us to look at how we deliver on what our audiences need and what they want to be successful for the future. While the pandemic has changed the way our audiences engage with business events, it has not altered their desired outcomes from these events."
Mr Kai Hattendorf, Managing Director & Chief Executive Officer, UFI, said: "Business event companies and their customers across Asia-Pacific have shown themselves to be more open to digital business developments than their global peer group. And looking forward, exhibitors in Asia are now much more optimistic about their budgets than they were in summer 2020. We hope that this white paper is useful in showing some of the approaches and opportunities that lie ahead for business events as the fastest of all fast tracks for economic recovery."
MICE & Events Capability Building Network is supported by STB, Enterprise Singapore, Workforce Singapore and SkillsFuture Singapore. It aims to bring together public and private sector entities and educational institutions to develop new and refreshed career paths for MICE professionals, including freelancers and self-employed individuals, and create relevant training programmes.
The paper was launched at Singapore MICE Forum x IBTM Wired, where speakers from STB, PCMA, UFI and GEVME led a panel discussion on its key findings and exchanged views on its three innovation pillars.
Singapore MICE Forum x IBTM Wired (28 June) brings together up to 250 event professionals in Singapore as well as up to 1,000 joining online from around the world including China, Korea, and the United States, for focused discussions on how event design as well as digital and community engagement are cornerstones of business success.
The event is a partnership between IBTM – part of Reed Travel Exhibitions – and SACEOS. IBTM Wired is the newest addition to IBTM's global portfolio of events and intelligence for the meetings, incentives, conferences and events industry and kicks off with SACEOS' flagship industry business event – the Singapore MICE Forum, on its first day.