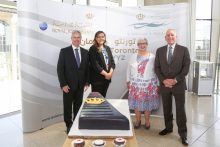 A ceremony for the inaugural flight was held recently at Queen Alia International Airport. Present were Her Excellency The Canadian Ambassador Donica Pottie, RJ Vice Chairman/CEO Samer Majali and Airport International Group CEO Nicolas Claude.
RJ Vice Chairman/CEO Samer Majali expressed his pleasure at the addition of Toronto to RJ's route network, a move that comes in implementation of the airline's five-year strategy, which includes, among others, growing the fleet and the route network in order to position Amman as the leading gateway for the Levant.
Majali said that the new route is bound to attract more tourists to Jordan, facilitate travel for individuals, families, expatriates, Arab communities, students and businessmen, and boost trade between the Jordanian and the Canadian markets.
"Furthermore, we are now focusing on bringing in more tourists to Jordan and help boost tourism through providing outstanding quality of service accompanied by our Jordanian hospitality when flying RJ from/to Toronto," Majali commented.
Airport International Group CEO, Nicolas Claude, said: "We are pleased to be inaugurating this new route connecting Amman and Toronto, which aligns with our strategy to expand Queen Alia International Airport routes network, while providing passengers greater travel options and serving new markets. I would like to thank our national carrier, Royal Jordanian, for supporting our commitment to opening new routes, and strengthening our standing as an award-winning gateway to the Levant and the world."