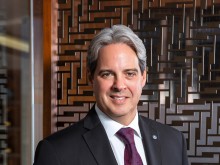 Home-grown brand Rotana underlining its continuing expansion is showcasing its growing portfolio of world-class hospitality offerings at Arabian Travel Market (ATM) 2019. Now in its 26th edition, the key industry event offers an outstanding platform for Rotana to share the latest updates on its performance and upcoming openings in the region and beyond. Rotana currently operates 65 hotels in 23 cities across 12 countries, including an impressive 9,694 keys at 35 hotels in the UAE alone.
With a pipeline of ten hotels scheduled to open before the end of 2020, the stage is set for the company's sustained expansion. Among the most highly anticipated of Rotana's upcoming openings in 2019 is the Johari Rotana in Tanzania, a spectacular five-star hotel in Dar es Salaam that marks the company's entrance to the East African market.
Rotana is set to make another country debut in Q3 2019 with the opening of the Bosmal Arjaan by Rotana in Bosnia and Herzegovina.  Also launching during Q3 2019 is the Dana Rayhaan by Rotana in Dammam. The new hotel will add 285 keys to Rotana's inventory in Saudi Arabia, which currently consists of six hotels.
Rotana's expansion will continue in 2020 with the launch of Centro Corniche, Al Khobar (253 keys), Slemani Rotana, Sulaymaniyah (240 keys), the company's third hotel in Jordan, Centro Amman (200 keys), Al Jaddaf Rotana (338 keys), Cayan Cantara Arjaan by Rotana (329 keys) and Cayan Cantara Residences by Rotana (489 keys) in Dubai, and Imam Reza Rotana, Mashhad (272 keys).
Reflecting on the importance of the event, Guy Hutchinson, Acting CEO of Rotana, commented, "We are delighted to participate in ATM 2019, which offers unrivalled opportunities to connect with key industry stakeholders, forge new business alliances, and showcase our plans for the future. The theme of this year's event is innovation and technology, an area in which we have always excelled thanks to our passion for developing ground-breaking ideas that engage guests and improve their overall experience."