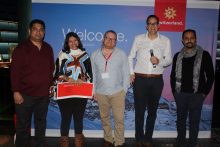 Kicking off the year ensuring the agents keep Switzerland at the top of their mind, as they recorded a surplus of tourists from the region last year, Switzerland Tourism Board in the GCC conducted its Race to Switzerland where 80 of the leading travel trade agents learn and specialise about the latest offerings and new destinations in Switzerland for a period of 24 hours. The event kicked off this year in Abu Dhabi's Yas island, Matthias Albrecht Director Switzerland Tourism GCC shared the importance of the event to learn about the many new areas, attractions, hotels and the Swisstainable approach that they have been promoting with their efficient Swiss travel system. Last year Switzerland recorded a surplus of visitors from the GCC and this is yet another important initiative to ensure that the GCC will continue to explore the many new offerings in the destination.
Speaking with TravelTV Matthias Albrecht Director Switzerland Tourism GCC reiterated, "It's a fantastic event and we are very happy to be back as it's the Race to Switzerland. It's where the best travel agents from the UAE compete with each other in groups and they are somehow in a virtual trip through Switzerland and this year on the grand train tour of Switzerland where they visit different destinations, and then they participate in games and quizzes and get some points and at the end of their journey through Switzerland they have the chance to win a trip to Switzerland. We have 19 partners from Switzerland and Swiss International Airlines, they all have different break out sessions and they brought together some wonderful games, it's a corporation between not just the Swiss partners but also the agents as well."
The agents were divided into groups where they work together and learn about all the offerings and areas etc in a fun but very informative and effective manner. There were break out rooms from selected areas in Switzerland where each team had the opportunity to learn about the destination and its many offerings thorough effective methodologies which included interesting word plays, Pictionary, games and puzzles. The fun way of learning alongside the competitive edge to vie to win a trip to Switzerland, not just for one or two people but the group was an absolute motivator for all those present.
Instead of yet another workshop or a presentation, this was a really interesting way not just to learn about the destination but also brought the travel trade closer together as they vied for the title as a team. Albrecht shared that they will be looking at taking this further within the region very soon.