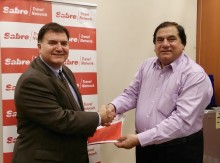 Saudi-based travel agency Mosaid Travel and Tourism Services has renewed its 10-year exclusive relationship with global travel technology provider, Sabre Corporation, to support its vision to expand regionally, provide more personalised travel experiences and improve customer satisfaction.
Nadir Kazalbash, General Manager, Mosaid Travel and Tourism Services said,  "The travel industry is fast-evolving with new trends and rapidly-changing traveller expectations. Over the years, Sabre has been a trusted and innovative technology provider that understands the challenges we face, and anticipates trends and technology needed to meet the expectations of today's connected travellers. Their technology investments help us differentiate our offerings, and contribute to our growth and success in the market. We look forward to start using the New Sabre Red Workspace that will help us provide more personalized offerings and differentiate our services."
Mosaid Travel will continue to access Sabre's marketplace of more than 400 airlines, 750,000 hotel properties, and hundreds of tour operators, rail, car and cruise providers, giving Mosaid Travel the opportunity to sell personalized travel packages from suppliers all over the world. The agency accesses the marketplace through the Sabre Red Workspace platform, which provides quick and easy access to shop, book and manage travel content including low-fare carriers, as well as travel management capabilities.