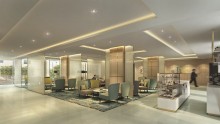 Mövenpick Hotels & Resorts has opened doors to its fourth property in Jeddah with Mövenpick Hotel Tahlia Jeddah. Owned by Hadia Abdul Latif Jameel Food Products Trading Company, the hotel is a sophisticated lifestyle property with a prime location on Hail Street, just 30 minutes from King Abdulaziz International Airport and within walking distance from both the thriving Jameel Square commercial building and Al Thalia shopping street. With a leading-edge noise cancelling system built into the structure, the hotel's 161 rooms and suites, equipped with expansive living areas, are a haven for business and leisure travellers in the heart of the city. Ideal for families and long-term stays, special rooms are equipped with a full kitchenette, while children can be kept entertained at The Little Birds Club, featuring a range of entertaining and educational activities. The property is also set to become one of the city's most sought-after dining destinations, with Jeddah's first restaurant managed by Michelin star chef and restauranteur Vineet Bhatia whose culinary creations are brought to life at 'Rasoi by Vineet'.
"This contemporary property is a distinctive addition to our fast-growing portfolio in Saudi Arabia where we currently operate 12 properties and have four more pipelined. Mövenpick Hotel Tahlia Jeddah, through its design, unique dining options and spacious rooms and suites, will add to Jeddah's upscale offering as the city continues to attract a greater number of visitors through Saudi Vision 2030's economic and social reforms. Adding a fourth property in Jeddah bolsters our cluster strategy in the Kingdom, consolidating Movenpick's reputation for innovation, culinary excellence and authenticity, reinforcing its we make moments brand promise," said Sami Nasser, Chief Operating Officer—Middle East & Africa, AccorHotels.
Guests can also embark on a gourmet journey at international all-day dining venue, Le Bistro Restaurant, featuring indoor and terrace seating available in a garden-inspired environment. Alternatively, the Lobby Lounge overlooks the pool, serves hot and cold drinks, pastries and snacks.