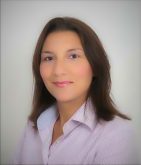 German National Tourist Board's (GNTB) has launched its latest campaign, German.Local.Culture., on the back of a successful Arabian Travel Market (ATM 2021) participation which stimulated strong interest from GCC travel representatives. As one of Germany's top three source markets, which registered more than 1.6 million overnight stays in 2019, the GCC is a key focus for the tourism board, who led a delegation of six tourism partners during the first live travel exhibition in Dubai this week.
"The relationship between the GCC and Germany remains extremely strong, and with the announcement earlier about changes to quarantine regulations, we are optimistic for a swift traveller recovery from the region," said Yamina Sofo, Director of Sales & Marketing, German National Tourist Office (GNTO), the regional office of GNTB. "The new campaign, German.Local.Culture., will not only showcase the very best that Germany and our regions has to offer, but will further showcase the destination as a must visit."
"The German.Local.Culture. campaign addresses the increased longing of travellers for authenticity and traditions and gives insights into German customs from handicrafts to local and regionally typical dishes," Petra Hedorfer, Chairwoman of the Executive Board of the GNTB, said.
Commenting on the success of ATM, Robert Lekel, Marketing Manager at Munich Tourism, said: "It was great being at ATM this year, we are able to be visible and show future and returning customers, and travellers, that we are waiting for them and hopeful for flights again. We felt the positive spirit between everyone, we are very happy to connect once again."
His thoughts were echoed by Cornelia Stahr, Head of Global Marketing at Baden-Baden Tourism, who added: "I am very happy the Arabian Travel Market could take place in person again, and I think it's a good sign not only for the GCC markets, but internationally as well. It is a great sign for tourism to kickstart again. We have been away for almost two years with no live internactions, so it feels great to meet face to face. We are on a good track to reopen for tourism again and thats essential in so many ways."
Angela Rieger, Sales & Tourism Manager at Outletcity Metzingen, added: "Arabian Travel Market has set a great stage for the restart of international tourism. After such a long time being away, it was great to meet with partners and travellers once again. Seeing all the interest in shopping at Outletcity Metzingen and travelling to Germany is very exciting to see."
"The show this year had very positive energy all around. With proper COVID regulations followed, we were able to meet with many agents who were very hopeful to start up business again. I was quite occupied all throughout the show, which had surprised me in the best way possible, seeing as Germany is hopeful on opening their boarders again," Michaela Tedsen, Business Development – Studiosus Incoming, noted.