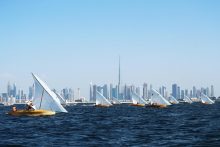 With a diverse calendar of international sports events combined with a range of world-class infrastructure and facilities, Dubai's sports sector has emerged as a key driver of growth for the city's tourism industry, attracting both players and fans from around the world and further enhancing Dubai's position as a multi-faceted destination. What sets Dubai apart as an attractive sporting hub is the superior spectator excitement and experience shared by visitors and residents from over 200 different nationalities; access to tournaments featuring the world's best sporting icons; year-round availability of world-leading sports venues such as stadiums and golf courses; tourism infrastructure such as hotels catering to the varied visitor profile, in addition to the unique destination offering. As a testament to the growth of sports tourism, even international sports brands continue to choose Dubai as the launchpad for major initiatives. Dubai's Department of Economy and Tourism and top global brand, adidas, recently signed a Memorandum of Understanding (MoU) that enables Dubai's residents and visitors to access a range of lifestyle, retail and sports events and activations to encourage everyone to adopt a healthier lifestyle while prioritising their safety and well-being.
His Excellency Saeed Hareb, Secretary General of Dubai Sports Council, said: "Dubai, without a doubt, is a leading sports destination – not just in the region, but also globally, thanks to the visionary leadership of His Highness Sheikh Mohammed bin Rashid Al Maktoum, Vice President and Prime Minister of UAE and Ruler of Dubai, and the guidance of His Highness Sheikh Hamdan bin Mohammed bin Rashid Al Maktoum, Crown Prince of Dubai and Chairman of The Executive Council of Dubai, and His Highness Sheikh Mansoor bin Mohammed bin Rashid Al Maktoum, Chairman of Dubai Sports Council."
"Our visionary leadership understands that sport plays a big role in the growth and appeal of a truly global city. Sport is also an important element in the tourism industry and sports tourism has been growing at an impressive rate. So we in Dubai have been building and investing in our sports industry for more than 40 years. Today, we can boast of many sporting landmarks. We also have some of the world's best golf courses, including one in Hatta, that have turned Dubai into one of the leading golf tourism destinations in the world."
"Name the sport and we have it here – land, water, air, and mountain sports. Dubai is a brand that is synonymous with quality in every sphere and it is no different in sports. We at Dubai Sports Council believe in hosting and delivering events of the highest quality, and making sure both the athletes and fans return with unforgettable memories of their stay in Dubai. We have some of the world's best sporting infrastructure, but our biggest advantage is our leadership, who love sports and have worked tirelessly to build infrastructure and to encourage both Emiratis and expatriates to embrace sports and a physically active lifestyle."
Ahmed Al Khaja, CEO of Dubai Festivals and Retail Establishment, commented: 'As a role model for recovery in the events sector, Dubai continues to host global sporting events that play a pivotal role in the city's tourism growth, and further enhance our efforts to achieve the goal set by our visionary leadership to make Dubai the most preferred and visited destination in the world. Following the successful citywide management of the pandemic, top sports events, along with an array of festivals and leisure and business events, are also making a significant contribution towards showcasing Dubai as a city that is open, vibrant and safe."
"Dubai also has a track record of consistently hosting successful events, thanks to its most unique public-private partnership model which sees continuous collaboration between government and private sector establishments, enabling Dubai to continuously position itself as a global events destination. In positioning the city as a sports capital, we also constantly raise awareness of sporting events among residents and visitors through our well known web and digital platform, Dubai Calendar. Besides, mega events featuring international sports stars, telecast to millions of viewers worldwide, have themselves become major tourism attractions that have helped highlight Dubai as a must-visit destination."
Emergence of Dubai as a global sports hub
Apart from substantial investments in the field of football, the most popular sport in the UAE, Dubai originally rose to prominence as a global sports hub by staging the world's biggest horse racing event, the Dubai World Cup since 1996. With a purse of US$35m, the Dubai World Cup is now a much-awaited highlight of the city's sports scene, drawing thousands of visitors to Dubai in March each year. To the delight of horseracing enthusiasts visiting the event's venue, the Meydan Racecourse also offers year-round horse riding lessons, stable tours, and much more.
Each year, Dubai hosts the best of the European Tour Players for the prestigious DP World Tour Championship and the grand finale of the Race to Dubai. This year, fans had free admission to tread the greens and stand along the crisp fairways designed by two-time Open Champion Greg Norman and were able to enjoy the Ultimate Fan Experience, which grants access to the famed 16th Green hospitality lounge and its preferential viewing platform.
Continually adding new sporting firsts to its calendar, Dubai's Coca-Cola Arena introduced the Tie Break Tens in October, the first-ever international tennis event hosted by the Arena. This knockout tournament saw eight players take part in the new quick-fire format of the sport, offering a prize package of AED 500,000. For followers of more traditional tennis, the annual Dubai Duty Free Tennis Championships is held in the 5000-seater outdoor Dubai Tennis Stadium every February.
Dubai Sports Council and Dubai's Department of Economy and Tourism have also recently signed an MoU with Kontinental Hockey League and Russian professional ice hockey team Avangard to extend Dubai's winter sports offering. The city will host a professional match between the most recent winners of the Gagarin Cup, Omsk-based Avangard and Ak Bars Kazan at the Coca Cola Arena on 3 December 2021 and will launch Dubai Ice Show from 3-5 December 2021, as a spectacular theatrical show featuring world-famous stars of figure skating from Russia.
Catch a sporting spectacle
Highlighting Dubai's sporting prominence, after almost a hundred years of being headquartered in Lords, England, the International Cricket Council moved its headquarters to Dubai. The 2021 Indian Premier League, one of the most-watched sporting events, was held across three venues in the UAE including Dubai International Cricket Stadium, which was also the venue for some of the matches and the final of the ICC Men's T20 Cricket World Cup, followed passionately by billions of cricket fans.
One of the city's most popular sporting events, and another favourite of rugby fans around the world, is the Emirates Airline Dubai 7s that will take place from 2-4 December 2021 at The Sevens Stadium. Getting bigger and bigger each year, the tournament brings the action on and off the field, whether you are a sports enthusiast, music lover, or just looking for a fun weekend. The interactive event sees over 350 local, regional and international teams represented across the three sports, rugby, cricket and netball, guaranteeing nail-biting entertainment for spectators.
Challenge yourself and learn something new
Every year the Dubai Fitness Challenge (DFC) encourages Dubai residents and visitors to complete 30 minutes of activity every day, for 30 days. From 29 October to 27 November 2021, the latest edition of DFC offers an action-packed calendar of free classes, sporting events, group workout sessions and virtual tutorials. Key DFC highlight, the 14km Dubai Ride. Highlighting the power and popularity of sport within Dubai, the highly anticipated Dubai Run will be held on 26 November. Open for runners of all ages and abilities, the event features 5km and 10km routes that will begin on Sheikh Zayed Road at the spectacular Museum of the Future.
The Standard Chartered Dubai Marathon, which takes place in early 2022, is another much-awaited fixture, attracting more than 30,000 participants annually.
As a forward-focused city, Dubai is continually offering its residents and guests the latest innovations in sports and wellness. One of the biggest trends that emerged this year was padel tennis with multiple venues with padel courts opening this year including The Alley DXB.
The latest addition to Dubai's thriving sports and adventure activities scene, Deep Dive Dubai is the place to be for all aqua enthusiasts. Having opened in July 2021, the 60-metre deep pool is certified by Guinness World Records as the world's deepest swimming pool for diving.
With year-round sunshine, Dubai takes sports enthusiasts on epic marine adventures with a choice of diving, sailing and jet skiing. There are also several beach and sailing clubs across the coast that offer accredited, internationally-recognised courses, such as Dubai Offshore Sailing Club (DOSC) that teaches sailing, skipper and racing lessons. For those who prefer a more leisurely aquatic experience, Xclusive Yachts offer leisurely sunset cruises or Hero OdySEA – Dubai's only self-drive boat. Paying homage to sailing as part of the nation's maritime heritage, events such as the annual Al Gaffal Dhow Race, the long-distance sailing competition continue to draw crowds as a cultural tourist attraction.