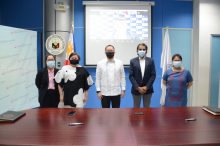 To provide efficient passport renewal services to a vast population of Filipino nationals living in the Kingdom of Saudi Arabia (KSA), Department of Foreign Affairs (DFA), The Republic of the Philippines has extended their collaboration with VFS Global for five years by signing a Memorandum of Agreement (MoA) on 7 May 2021 in an official ceremony that was held in Manila, Philippines.
KSA is one of the countries in the Middle East with the highest concentration of Filipino workers. To enhance customer experience and provide greater accessibility to customers in the KSA, the DFA outsourced the administrative and non-discretionary task of the passport renewal process to VFS Global in 2019. Subsequently, three Philippine ePassport Renewal Centres were launched in Riyadh, Jeddah and Al Khobar in October 2020.
Prior to the launch of ePassport Renewal Centres, Philippine residents in the Kingdom had to visit the Philippine Embassy in Riyadh or the Consulate in Jeddah for passport renewal. Customers now have an additional avenue to complete the process. In addition to the Centres in KSA, VFS Global also operates two ePassport Renewal Centres located in Dubai and Abu Dhabi in the United Arab Emirates, which are also part of MoA extension.
Upon signing the agreement, Foreign Affairs Undersecretary Brigido J. Dulay said, "Partnering with an established outsourcing champion like VFS Global enabled the DFA to multiply its presence in the Middle East at zero cost to the Philippine government. With the renewal, we can now look at widening and implementing similar service centres in other countries."
Attending the virtual signing ceremony, Chris Dix, Head of Business Development, VFS Global, quoted, "On behalf of VFS Global, I would like to thank the Department of Foreign Affairs, the Republic of the Philippines for their faith in us as we renew the ePassport Renewal Centre services. Our Passport and Consular services have been growing from strength to strength, and we continue to look forward to offering a world-class service experience in KSA, and possibly soon in other Middle Eastern counties, to ease the passport renewal process for Philippine nationals."