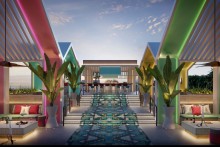 A new hotel brand to the region was announced by Deutsche Hospitality, as the group gets set to launch the first Jaz in the City hotel in Deira, Dubai in 2022. Serving as a home away from home for music-aficionados of all genres, Jaz in the City places music in the spotlight through DJ sets and live acts, sweet sound installations, carefully compiled all-day play lists and Jaz Radio Stream, Recording Studio as well as music-minded staff and a dedicated Corporate Curator.
Jaz in the City Dubai will be located within the Deira Enrichment Project under development by Ithra Dubai, a fully owned subsidiary of Investment Corporation of Dubai (ICD). It will comprise of 253 guest rooms, 234 Intune rooms (standard), 13 Bass rooms (junior suites) and six Offbeat rooms (one-bedroom suites). It will also encompass a range of F&B offerings that include Soul Food Restaurant, Grill Bar & Restaurant, Hotspot Pool Bar and unique Jazz' Roof Bar as well as an all-day dining outlet and Lobby Café. Meeting rooms and a dedicated well-being area will also be available to guests.
Leading German hotel company, Deutsche Hospitality, announced its assertive worldwide expansion plans, aiming to grow its global portfolio from 150 to 250 properties by 2024. The Middle East will play a major part in this growth, with plans to introduce new hotels in UAE, Oman and Saudi Arabia within the next year. Renowned for providing international hospitality of the highest professional level and combining the finest of German hotelier passion with international flair, Deutsche Hospitality is currently present in the Middle East with two Steigenberger and five IntercityHotel hotels.
In addition, Deutsche Hospitality has also announced a complete relaunch of its luxury brand, Steigenberger Hotels & Resorts, striving to be trend-setting in design, contemporary in digitalisation and dynamic in addressing target groups.