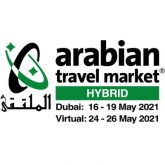 The much-awaited Arabian Travel Market will kick off from 16th to 19th May 2021 at the World Trade Center after battling a pandemic over the past year. In-person on the show floor, 62 countries are being represented. They include the UAE, Saudi Arabia, Bahrain, Germany, Cyprus, Turkey, Egypt, Jordan, Italy, Greece, India, Indonesia, Malaysia, South Korea, Maldives, the Philippines, Thailand, Mexico and the USA to name but a few.
Danielle Curtis, Exhibitor Director ME, Arabian Travel Market shared, " ATM 2021 will be held at the Dubai World Trade Centre, spread across nine halls. Consistent with the existing social distancing guidelines and regulations, there will be 11,000 people in the halls at any given time. In a bid to provide a safe, touchless and seamless experience for everyone, ATM will strictly adhere to the health and safety guidelines laid out by relevant government authorities. In addition to Reed Exhibitions' Global COVID-19 'Safety Shows' Health & Safety strategy, ATM is working closely with the team at the Dubai World Trade Centre and with our Global Operations team."
A range of measures will be put into place to ensure physical distancing whenever possible, as well as a number of enhanced cleaning regimes, in collaboration with the venue.
As part of our check and balance regulations, to manage any potential overcrowding, the number of people allowed on each stand will be prominently displayed to ensure density rules are met. All exhibitors will be using the Emperia application to scan visitor badges to capture valuable leads and in the venue, printed directional arrows will be displayed on the aisles to manage two-way and one-way traffic appropriately.