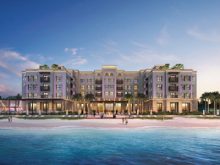 Emaar Hospitality Group announced the opening of its first resort under the Vida Hotels and Resorts brand in Umm Al Quwain. Located on the idyllic beachfront, Vida Beach Resort, Umm Al Quwain offers endless attractions to tourists and residents of Umm Al Quwain at the stunning design-led resort. From sophisticated rooms and suites, captivating views of the sea and endless water sports facilities, to wholesome eateries, a vibey rooftop bar, sandy white beach access, and an expansive pool, Vida Beach Resort, Umm Al Quwain is the ultimate destination to unwind and come alive with friends, family, and pets in the picturesque location of Umm Al Quwain.
Escape the hustle and bustle of the city and explore the nearby hidden gem that is the emirate of Umm Al Quwain offering culture, heritage, water activities, and much more. Vida Beach Resort, Umm Al Quwain is just a stone's throw away from Umm Al Quwain's most popular tourist attractions such as the UAQ Corniche and the UAQ National Museum which offers an invaluable collection of artifacts that were excavated from nearby sites. Explore the Umm Al Quwain Coastal Mangrove just nine minutes from the resort and paddle the serene waters of the Mangrove inhabited by flamingos and cormorants.
Vida Beach Resort, Umm Al Quwain includes 135 rooms and suites which showcases breathtaking views of the sea and offers mesmerizing sounds of the waves providing the ultimate tranquil experience for guests who stay at the resort. The rooms at Vida Beach Resort, Umm Al Quwain offer sleek and stylish furnishings and include in-room technology, complimentary Wi-Fi, with 24-hour concierge service on hand to ensure maximum comfort. For an escape with uninterrupted views of the sea and breathtaking sunsets Vida Beach Resort, Umm Al Quwain offers 8 chalets all located directly on the beach, featuring two bedrooms with a spacious living room and private outdoor area.