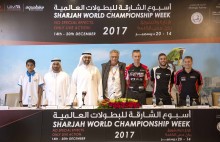 Sharjah Grand Prix, the annual international championships for water sports, returns for the next two weekends. The event will be organised under the patronage of H.H. Sheikh Sultan bin Mohammed bin Sultan Al Qasimi, Crown Royal Prince and Deputy Ruler of Sharjah, during Sharjah World Championship Week. The emirate will play host to the UIM Formula1 Power Boat Championship and Sharjah Aquabike World Championship from December 15-21, 2017 at the Khalid Lagoon, in partnership with Sharjah International Marine Sports Club and Union International Motonautique, Sharjah Tourism and Commerce Development Authority (SCTDA) revealed.
H.E. Khalid Jasim Al Midfa, Chairman, SCTDA, said, "Hosting the F1 Powerboat Championship further consolidates Sharjah's position as an ideal sporting destination in the UAE and the region, as well as enables the emirate to showcase its authentic Arabian culture and heritage. Aiming to continue building such venues in Sharjah, we look forward to another exciting and successful race in this edition."
The key partners of the event include the Department of Seaports & Customs-Government of Sharjah, Sharjah Police Headquarters, SEWA, Sharjah City Municipality, Air Arabia, Sharjah Road and Transport Authority, Civil Defense Department- Sharjah, Sahara Centre and Mega Mall.