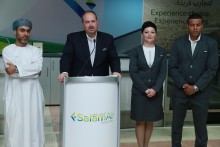 SalamAir has introduced Dubai as its first international destination. The double daily service will operate from Muscat International Airport (MCT) to Dubai World Central (DWC) before moving to Dubai International Airport (DXB) starting March 26, 2017. SalamAir's growing destination network was made possible with the arrival of the second A320 to its fleet, named "Fateh Al Khair" and will introduce a third daily flight to Salalah.
"It has been an exciting start to the year for SalamAir with the introduction of our two destinations, Salalah and Dubai, which reinforces our commitment to strongly support and further trade and economic opportunities for Oman," said Khalid Al Yahmadi, Chairman of SalamAir. "For a newly launched airline, our figures are already showing very promising results. The response from our guests has been very positive which demonstrates our capabilities in offering a redefined travel experience that never compromises on quality, safety and security."
With fares from Dubai to Muscat as low as AED 122, guests can now book their flights on the website and can choose between three easy fare options: Light, Friendly & Flexi. Delivering on its promise to offer value for money, SalamAir will provide the option of 'through flights' on the 17:35 flight from Salalah to Dubai, meaning that guests can fly to Dubai without having to disembark in Muscat. The service includes a 50-minute stopover. Built on the philosophy of 'Always Welcome', SalamAir ensures that Omani hospitality is reflected in all aspects of its services, whether on-ground or in-flight. An affordable menu of additional services is also available to guests, which includes extra luggage allowance, seat selection, and priority check-in.