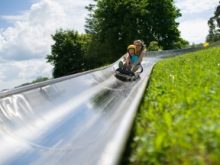 Ras Al Khaimah Tourism Development Authority announces its long-term investment strategy aimed to boost the growth and diversification of Jebel Jais – the UAE's highest mountain. This announcement of continued investment underscores the Emirate's resilience and recovery momentum despite the challenges imposed this year by the COVID-19 pandemic. This year, AHIC will bring together key industry leaders and stakeholders in a new format featuring a combination of physical and virtual sessions, which will be attended by Raki Philips, CEO of Ras Al Khaimah Tourism Development Authority and Alison Grinnell, CEO of RAK Hospitality Holding.
Raki Phillips, CEO of Ras Al Khaimah Tourism Development Authority said, "We are honoured to be part of this year's Arabian Hotel Investment Conference (AHIC) and look forward to sharing Ras Al Khaimah's experience in navigating through these times with a focus on building a stronger destination, as a result. Our road to recovery is still in its early phases, but we have already seen significant uplift in the tourism and hospitality sectors' performance leading to Ras Al Khaimah having the strongest RevPAR performance in the GCC."
"With the introduction of our new investment strategy, we aim to allocate additional funds towards Jebel Jais, one of the Emirate's key landmarks, to enrich visitor experiences and to accommodate the increasing demand for travel experiences set in expansive, open and natural environments" added Phillips.
Alison Grinnell, CEO of RAK Hospitality Holding shared, "Announcing our long-term investment strategy is yet another positive step towards a stronger comeback, and it demonstrates the Emirate's extraordinary efforts to continue developing its offering, especially on Jebel Jais, to meet travellers' new expectations and needs. We are also proud that despite these unprecedented circumstances, we continue to evolve the Emirate's tourism offering with the introduction of new projects such as the world's first Bear Grylls Explorers Camp opening in October and another first – 1484 by Puro, the highest restaurant in the UAE."