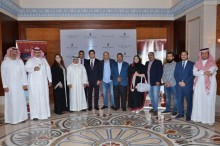 Ras Al Khaimah Tourism Development Authority (RAKTDA), which develops the emirate's tourism infrastructure and initiates its domestic and overseas promotions, has expanded its presence in the Kingdom of Saudi Arabia with the opening of a new representation office in the country's capital, Riyadh.
Marking its sixth international representation office, the Riyadh opening will support the tourism body's promotional activities and trade partnerships to penetrate the Kingdom's high potential outbound market. A team of dedicated trade promotion, MICE and business development staff will manage various in-market promotions and initiatives to drive further awareness of Ras Al Khaimah as a multi-faceted business and leisure destination to Saudi travellers. The move comes as Saudi Arabia produces more hotel guests to the emirate than ever before. According to recent RAKTDA data, tourist arrivals from Saudi Arabia increased by 71.28 per cent year-to-date, with further growth expected during the course of 2017.
Commenting on the new office opening, RAKTDA CEO Haitham Mattar said: "This market on our door-step is extremely important to us. The UAE has long been a favourite destination for Saudi tourists and our new our new representative office will further cement our promotional presence in the Kingdom. Through this representation we will build upon current travel trade partnerships, explore further opportunities and continually position Ras Al Khaimah as a year-round destination through targeted campaigns."
RAKTDA's policy of positioning the emirate as more than a sun, sea and sand destination, driven by the implementation of the Destination Ras Al Khaimah 2019 strategy, has resulted in attracting 820,772 visitors in 2016, placing it in a strong position to achieve its target of one million visitors by the end of 2018.