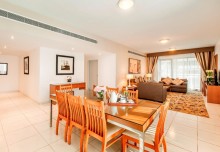 Golden Sands Hotel Apartments, part of A.A. Al Moosa Enterprises, witnessed an increase of 10 per cent in visitor arrivals from India in 2017 and is expecting to double the growth this year. The property hopes to continue to attract and get a bigger share of this market through an aggressive marketing campaign and participation in trade shows such as SATTE, South Asia's leading travel show set to be held in New Delhi, India from January 31 to February 2, 2018.
India is the number one source market for Dubai's inbound tourism, with 1,478,000 Indian tourists arriving in the city between January and September 2017, a 20 per cent increase over the same period in 2016. Recent reports indicated that around nine million Indians are expected to travel to the GCC by 2021, with the UAE expected to see a 10.8 per cent increase.
"Golden Sands is known in the India market for the quality of service, high standard facilities and convenient location. With over 20,000 attendees this year, we'd like to take every opportunity to connect, grow and learn from our partners and meet with potential clients to discuss possible collaboration to increase our share of this attractive market," said Mohammed Khoori, General Manager, Golden Sands Hotel Apartments.