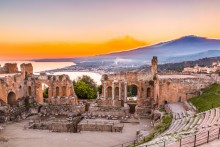 Ahead of the new year, flydubai launched two new routes to Europe. Flights to Krakow will start on April 8, 2018 and flights to Catania will begin on June 13, 2018. flydubai becomes the first UAE carrier to operate direct flights to these destinations, offering weekly flights. With the launch of these new European routes, the airline's network grows to over 100 destinations in 47 countries.
Ghaith Al Ghaith, CEO, flydubai, said, "With the launch of flights to Krakow and Catania, flydubai is committed to open up new direct air links to Dubai. Our latest route launches are testament to that commitment which demonstrate our efforts in offering our passengers more options to explore our network."
Emirates will codeshare on both routes and as part of the Emirates-flydubai partnership, each airline's passengers will have the opportunity to connect in Dubai to hundreds of destinations across the world. To offer passengers more comfort and an enhanced travel experience, the carrier will operate the new routes on its brand-new Boeing 737 MAX 8 unveiled at the Dubai Airshow in November.