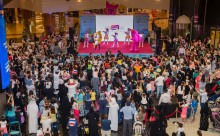 The number of hotel guests staying in Abu Dhabi increased by 4.9 per cent during the first five months of 2018 compared to the same period last year. According to statistics from the Department of Culture and Tourism – Abu Dhabi (DCT Abu Dhabi), 162 hotels, resorts and hotel apartments offering 31,236 rooms across the emirate welcomed 2,073,586 guests during January to May. The occupancy rate has averaged 75 per cent during the same period, with a 1.4 per cent increase, while the average length of stay was 2.7 nights, an increase of 2.4 per cent compared to the same period in 2017, with China topping the number of visitors, recording 192,500 visitors, an increase of 19.9 per cent. India came in second with 166,700 guests and a 22.2 per cent increase, followed by the UK with 119,900 amounting to a 12.7 per cent increase, the United States with 82,300 guests and a 25.7 per cent increase, and Germany with 71,300 guests at a 20 per cent increase.
HE Saif Saeed Ghobash, Undersecretary, DCT Abu Dhabi, said, "These results demonstrate steady growth and prove Abu Dhabi's ability to realise its strategic goals of positioning the emirate as a leading global destination through forward-looking marketing and promotional campaigns that seek to sustain growth."
While the Abu Dhabi Summer Season will run until August 18, the second half of 2018 will witness prominent events such as the Formula 1 Etihad Airways Abu Dhabi Grand Prix and Abu Dhabi Art in November, and the Abu Dhabi Food Festival in December.