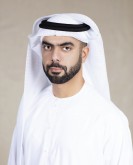 The Department of Culture and Tourism – Abu Dhabi (DCT Abu Dhabi) has launched an advanced language-learning programme, which aims to support the tourism promotion operations carried out by the Department's regional offices in 10 countries around the world. As part of DCT Abu Dhabi's strategy to develop skills and competencies, the programme is designed to equip employees in overseas offices with the ability to better communicate, using their host country's language. This includes six languages that represent Abu Dhabi's top visitor source markets –  English, French, German, Hindi, Chinese and Arabic. Organised in collaboration with Berlitz International Language Institute, the programme offers a training period of at least two months in Abu Dhabi, and is a part of DCT Abu Dhabi's series of advanced management training.
HE Saif Saeed Ghobash, Undersecretary, DCT Abu Dhabi, said, "Communicating with international markets in their own mother tongue will significantly expand our overseas offices' reach and the capability to promote Abu Dhabi internationally. We have received a promising response by using the languages of the countries we operate in, proving the importance of providing language classes to our employees to enable them to convey messages and deliver Abu Dhabi's image to the world effectively. As language is as much about layers of cultural context and national history, this strategy stands as a very powerful tool for tourism promotion."
Mastering local languages is a highly effective tool in tourism promotion, and will further support DCT Abu Dhabi's global positioning of the emirate as an exceptional destination for visitors and future investors.