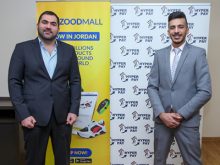 ZoodMall, the fastest growing B2C cross-border e-commerce marketplace app, operating in Central Asia and the Middle East, announced a new strategic partnership in Jordan with MENA region's leading payment gateway, HyperPay, to offer customers a convenient and secure online payment experience at checkout when completing a purchase on the ZoodMall Application.
Recent studies confirm that the e-commerce sector in the Middle East and North Africa region is on the verge of distinct levels of continuous growth during the coming period, coinciding with the increasing demand among consumers for electronic payment options, and the awareness of merchants of the need to enhance their electronic presence during the Corona virus pandemic. Trade in e-commerce platforms is expected to reach USD 28.5 billion in 2022, which is over 3.5 times the current trade volume and nearly 7% of total retail sales.
"The vibrant e-commerce market has witnessed an unprecedented increase during the pandemic period with the volume of e-commerce in the Middle East and North Africa region currently about $ 8.3 billion. With our vision and determination to continually expand our customer experience, ZoodMall recently partnered with HyperPay. This affiliation will enable our Jordanian customers to make payments online, using Debit and Credit Cards with ultimate flexibility, security and ease and will be the stepping stone to roll out ZoodPay 'Buy Now, Pay Later' (BNPL) payment options towards Local purchases including three easy instalment plans of up to 60 days without incurring interest charges." said Mohammad Al Yousef , ZoodMall Jordan's Country Manager
"We look forward to a long-term partnership with ZoodMall Jordan, and help our new partners grow their presence in the Jordanian eCommerce market as well as unlock their full potential by enabling fast and secure online payment acceptance." said Mohammed Lutfi, Business Development Manager at HyperPay.