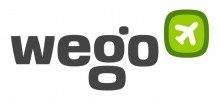 At the Arabian Travel Market in Dubai, Wego revealed the 'MENA Traveller Destination Leaderboards' that showcases the relative popularity of global destinations amongst travellers based in the MENA region. As the largest online travel marketplace across the MENA region, Wego users shop for tens of millions of trips each quarter and it's this flight and hotel search data that has been analysed to determine the destination rankings. The leaderboard announced today is for Q1 2018 and subsequent updates will be released shortly after the close of each quarter.
Egypt retains its top ranking in Q1 2018 as the most popular destination for travellers, from across the MENA region. "MENA travellers are lured by the culture, scenic attractions, and incredible food that can be experienced in Egypt", said Mamoun Hmedan, Managing Director – MENA and India, Wego.
The Kingdom of Saudi Arabia retains its second ranking and received a steady mix of business, expatriate and religious travel. India at the third position and Turkey at the fourth slot stepped up one rung each in the destination leaderboard for Q1 2018 vs Q1 2017, while UAE fell from the third to the fifth position. Despite the overall drop, Dubai remains a popular destination for MENA travellers.
The biggest gainer in Q1 2018 was Oman which jumped a massive 9 places to #15, an improvement likely related to the opening of a new airport in Muscat and a host of new hotels and other facilities opening in the Sultanate.