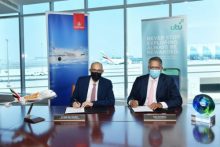 utu, the travel tech startup, has announced a partnership with Emirates Skywards, the award-winning loyalty programme of Emirates and flydubai, in a bid to disrupt the VAT refund sector. Emirates is the world's first airline to offer rewards on tax-free shopping. An industry first, the utu Tax Free app offers travelers the opportunity to upsize the value of their tax refund by 25% and earn 4,167 Skywards Miles for every 100 USD on any VAT or GST refund across 50 countries. Shoppers need to download the app, register for the virtual utu Tax Free Card and use the card number on any tax-free form to earn Skywards Miles.
To celebrate the launch of this industry-first proposition of rewarding VAT refunds, Emirates Skywards and utu are offering 5,001 Skywards Miles for every 100 USD of VAT refund starting from 11 October 2021 to 31 March 2022. There is no minimum spend requirement or maximum Miles earning limit. Both Emirates Skywards and utu believe in delighting their customers with curated rewards for members to enjoy.
"We are thrilled to have Emirates Skywards on board as our launch partner," said Asad Jumabhoy, Co-founder and CEO of utu. "Collaborating with the Emirates Skywards team has been a seamless process focussed on giving the best to our customers," he added. "By making a tax refund a reward, we are able to delight shoppers through value and choice while including participation across the travel and tourism spectrum, a win-win for all."
Dr Nejib Ben Khedher, Divisional Senior Vice President Emirates Skywards, said: "At Emirates Skywards, we pride ourselves on putting members at the heart of everything we do. This has enabled us to build a loyal following of discerning members, and it is also the reason why we constantly strive to reinvent and innovate our experience offering. utu is an exciting and fresh new company founded on a bedrock of industry expertise. It's set to disrupt the tax-free shopping sector. For our members, it means the ability to earn even more Miles on their everyday retail spend, which in turn can be used to redeem fantastic rewards including flight discounts, upgrades, hotel stays, hospitality tickets at world-renowned sporting events, and much more."
With over 150 partners, Emirates Skywards continues to diversify its brand partnership portfolio to offer members new ways to engage with the lifestyle programme. Emirates' home and hub, Dubai, remains a very popular holiday and shopping destination for global travelers. Customers flying to and through the city can earn even more Skywards Miles while shopping at destinations such as The Dubai Mall – home to more than 1,300 retail stores. Across Europe members can visit iconic shopping destinations such as The Bicester Village Shopping Collection and earn Skywards Miles with utu on tax-free shopping.
How to earn Skywards Miles while shopping tax-free:
Download the utu app
Register for a free utu Tax Free Card
Select Frequent Flyer Miles and Emirates Skywards as the preferred refund method
Shop at any store across 50 countries and on any VAT refund form, input the 16-digit utu Tax Free Card number in the credit card refund field. Follow customs formalities as instructed by the VAT refund operator
Once the refund is processed by the VAT refund operator, utu will inform the member about the number of Skywards Miles to be credited
Skywards Miles will be credited within 10 working days of the VAT refund having been processed
For more information, visit www.utu.global