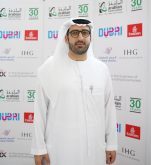 Mohamed Al Rais, Deputy Managing Director at Al Rais Travel highlighted UK and China has once again become the key source markets responsible for the growth of tourism in GCC.  According to the insights from Al Rais, Dubai's reputation as a safe and secure destination and trusted brand has resulted in an uptick from key source markets.
"Brand Dubai is trusted by people around the world. The country has rebounded incredibly well since COVID-19, with the latest figures for the first half of 2023 the best on record. As a travel company, our figures are very much representative of this. In terms of inbound markets, we've seen the top five markets shuffle to some extent, with Saudi dropping slightly and increases in British tourists.
"The return of the Chinese market, which, despite only coming back in Q1 of this year, has already moved into a top five position," said Mohamed Al Rais, Deputy Managing Director- at Al Rais Travel.
These trends are certainly borne out by the latest figures released by Dubai's Department of Economy and Tourism (DET) and no doubt experienced by ATM's other partners, such as Emirates and IHG Hotels & Resorts.
According to the latest statistics from DET, Dubai's top source markets include India, which has seen a 44% increase between January and August 2023 compared to the same period last year; Saudia Arabia, which has seen a nominal 5% decrease during the same period; the UK, up 14%; and the Chinese market, which according to the data has witnessed a 309% jump in the first eight months of 2023 when compared to the same period in 2022.
The tourism expert also believes Saudi Arabia and UAE, rather than competing, complement one another's tourism offerings and can encourage visits to both, similar to central Europe, where visitors tour several countries during one trip, benefiting the tourism industry across several borders.
This view is supported by the recent news from Abdullah bin Touq Al Marri, the UAE's Minister of Economy, who announced that a single common GCC tourist visa will be introduced by 2025, allowing for seamless travel between the Gulf States, simplifying travel and boosting tourism in the region.
"The opportunity this affords not only the UAE and Saudi, but the whole of the GCC, is visitors who qualify will be able to travel to any country in the GCC and tour with ease, benefiting tourism in all countries," added Al Rais.
In line with the ATM theme, Transforming Travel Through Entrepreneurship, and the UAE Tourism Strategy 2031, which has been developed to support the development of the country's tourism industry, Al Rais Travel is working with a range of airlines yet to establish links to the UAE and providing support to help set them up.
Danielle Curtis, Exhibition Director, Arabian Travel Market, said: "There are many examples of exhibitors seamlessly aligning with our show's overarching theme, which is further underscored by the impactful contributions regional tourism entities have in pioneering innovative approaches to propel the industry into the future.
"As a platform, our mission is to amplify the voices of industry stakeholders, shedding light on their diverse initiatives spanning environmental sustainability, cutting-edge technology, accommodation solutions, and transportation innovations."
The 31st edition of ATM will once again host policymakers, industry leaders and travel professionals from across the Middle East and beyond, encouraging them to forge new relationships, exchange knowledge and identify innovations that can reshape the future of global travel and tourism. From startups to established brands, the upcoming show will highlight how innovators enhance customer experiences, drive efficiencies, and accelerate progress towards a net-zero future for the industry.