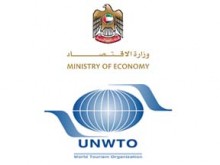 The Ministry of Economy will hold its 'Tourism Leadership Program' from October 30 to November 3, 2016, in collaboration with the UN World Tourism Organization (UNWTO) and Themis Foundation. The programme falls under the framework of the Emirates Host initiative launched recently by the Ministry which aims to enhance the capabilities of the tourism sector and support the preparation of a strategic integrated five-year development plan. The plan will raise the efficiency of the UAE's tourism workforce, improve service levels, and build local capacities.
H.E. Eng. Sultan bin Saeed Al Mansouri, Minister of Economy, said: "The development of the tourism sector and the enhancement of its contributions to the national economy are among the main pillars supporting economic diversification and promoting policies for a post-oil economy."
The Minister also emphasized that the Ministry will continue to work on developing a national tourism strategy that covers plans, initiatives and programs at the federal and local levels over the next five years. The strategy will promote and market UAE as a Tourism destination by creating a unified destination identity and supporting and strengthening each emirate's unique tourism potentials. For his part, H.E. Mohammed Khamis Al Muhairi, Undersecretary at the Ministry of Economy, added that the Ministry is coordinating with the UN World Tourism Organization and Themis Foundation, which is responsible for implementing training and education programs, to prepare an extensive tourism training plan during the coming period which will include many of the training programs and interactive workshops tailored for citizens working in the tourism sector. The Tourism Leadership Program is an intensive training course focused on strengthening the foundations of leadership and communication in tourism through theoretical and practical approaches.