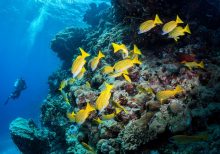 Red Sea Global (RSG), the developer behind two of the world's most ambitious regenerative tourism projects, has announced that its flagship destination, The Red Sea, has been accepted into Virtouso's ® exclusive portfolio of luxury travel partners, comprising over 2,300 preferred suppliers in 100 countries. Set to welcome its first guests in 2023, The Red Sea will join Virtuoso's elite network of the world's finest hotels, resorts, cruise lines, tour operators and other travel entities worldwide. These prestigious partners are recognized for not only delivering world-class services and experiences but also for providing superior offerings and rare opportunities to clientele.
"Set among desert canyons, dormant volcanoes and unexplored islands, we are pioneering a unique relationship between luxury tourism and the natural environment at The Red Sea. By committing to putting people and planet first, we are enriching the surrounding environment and giving new meaning to the concept of responsible development. Working with Virtuoso, we'll showcase the distinct benefits of regenerative tourism, while bringing our unparalleled guest experiences to travelers from all over the world," said John Pagano, Group CEO of Red Sea Global.
Located on the west coast of Saudi Arabia across 28,000 square kilometers of pristine lands and waters, The Red Sea will be home to a host of prestigious luxury brands, including Ritz Carlton Reserve and Miraval resorts – the first to operate in the Middle East. While staying at some of the world's most iconic hotels, visitors to The Red Sea can enjoy diverse activities across the full spectrum of retail, sport, entertainment, health and wellness – from desert safaris and spa days to sailing and diving.
A key attribute of the new partnership is The Red Sea's alignment with Virtuoso's longstanding goal of advancing sustainable tourism principles and practices. A core value for the network, Virtuoso's commitment to sustainability spans more than a decade and includes recognition of people and entities leading the way through awards and editorial coverage, the establishment of a Sustainability Council, related training and professional development for its affiliated travel advisors, and authoring its latest Virtuoso Sustainability White Paper available here.
"Red Sea Global's unique approach to developing a luxury offering while enhancing natural capital, undoubtedly aligns with our ambition to help drive the transition to green tourism," said Virtuoso Senior Vice President Sales & Partnerships Cory Hagopian. "With travelers increasingly searching for destinations that marry opulence with eco-friendly activities, The Red Sea is set to securely place Saudi Arabia on the global tourism map."
Upon completion in 2030, The Red Sea will comprise 50 resorts, offering up to 8,000 hotel rooms and more than 1,000 residential properties across 22 islands and six inland sites. The destination will also include an international airport, luxury marinas, golf courses, entertainment, and leisure facilities.
In partnering with Virtuoso, Red Sea Global will have direct access to the world's leading leisure travel agencies in North and Latin America, the Caribbean, Europe, Asia-Pacific, Africa and the Middle East.