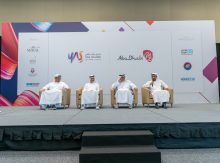 At the press conference along with its partners, Miral and DCT Abu Dhabi announced a stellar calendar of events running from July 2022 until February 2023 on Yas Island. Promising memorable moments at each event for every guest, the unmissable line-up features everything from global sports championships and family-friendly excitement to top-artist concerts and exhilarating adventures. An extensive line-up of events awaits with the return of Abu Dhabi Showdown Week featuring Ultimate Fighting Championship event UFC 281, National Basketball Association (NBA) pre-season games at Etihad Arena, and a stellar performance by Academy Award-winning composer AR Rahman as part of Diwali celebrations. Also coming to Etihad Arena is the awe-inspiring on-stage adaptation of Disney's The Lion King in November, adding another level of entertainment for Formula 1 Etihad Airways Abu Dhabi Grand Prix guests!
Returning to Abu Dhabi, Disney On Ice will surprise fans from all ages with new show 'Mickey and Friends' in October at Etihad Arena. In addition, Andrea Bocelli, the world's most-loved tenor, is set to perform in November at Etihad Park. 2023 will also see the return of the International Indian Film Academy Awards (IIFA) in February, the biggest celebration of the Indian film industry.
Welcoming the new year with a bang, the Abu Dhabi Golf Championship weekend will see comedian Kevin Bridges take the stage in January for the highly anticipated DP World Tour golf tournament. More exciting sports events will also be taking place in November and December which include the World Triathlon Championship Finals and the FIBA 3×3 World Tour final.
His Excellency Aref Hamad Al Awani, General Secretary of Abu Dhabi Sports Council, said: "Whilst announcing the calendar of events on Yas Island in the coming period, we congratulate Miral for their outstanding role as a developer of hosting international sporting events in Abu Dhabi. Our partnership with Miral has resulted in overwhelming successes as host of our sporting events in past years, and this experience has led us to organize more international events in the facilities on Yas Island," he said.
"On this occasion, we are delighted to announce the upcoming events to be hel on Yas Island. They are; the ITU 2022 World Triathlon Championship Finals from November 23-26. It's the first time the Final is staged in the Middle East and North Africa, and has more than 7,500 participants including the elite triathletes from around the world as well as drawing the best of the triathletes both from the region and locally. This will be followed by the FIBA 3X3 basketball finals on December 9 and 10 at the Yas Bay, and the 18th edition of the prestigious Abu Dhabi Golf Championship from January 19-22, 2023."
H.E. Saleh Mohammed Al Geziry, Director General for Tourism, The Department of Culture and Tourism – Abu Dhabi, said: "In Abu Dhabi, cross-industry collaborations and bold strategic partnerships remain crucial to elevating our status as a leading events hub. We have always believed that a dynamic events offering is a driving force behind the emirate meeting its ambitious tourism vision and achieving our target of 23 million annual visitors by 2030. Looking at our robust events calendar for this year and beyond, we are confident that Abu Dhabi will continue to draw diverse audiences from around the globe to our destination packed with immersive, exhilarating experiences that they can discover at their own pace."
Working towards further bolstering Yas Island's events offering, the Department of Culture and Tourism – Abu Dhabi (DCT) and Miral have also announced the renewal of their partnership through a dedicated events fund.  As part of the renewed two-year joint venture, the allocated fund will bring music, comedy, and live entertainment events, which aims to attract 260,000 event attendees to Yas Island, in addition to securing 36,000 hotel bookings.
Mohamed Abdalla Al Zaabi, CEO of Miral, said: "We are very proud of this line-up of amazing events coming to Yas Island. This is a testament to achieving our vision of positioning the island as a top global destination for entertainment and leisure, as well as a preferred location for world-class events. None of this would have been possible without the support of our partners, and we will continue to work together to provide our guests with unforgettable experiences and elevate Abu Dhabi's position as a global tourism hub."
Esports fans will enjoy Yas Gaming Festival's much-awaited return, and the fourth season of the V10 R-league in July as part of Yas Mall's Gaming Month. In December, Yas Island will also host the global tournament for the world's best esports teams Blast Premier World Final at Etihad Arena, delivering elite-level Counter-Strike and world-class entertainment for audiences.
This calendar promises to bring more than seventy exciting events to Abu Dhabi. The following is a taste of what is to come from July 2022 to February 2023: Yas Island will become the ultimate gamers' haven this July, with the Yas Gaming Festival returning in full force from July 7 to July 17. Abu Dhabi's biggest gaming event will see the best players compete in a slew of tournaments and be in for a chance to meet their favourite online celebrities. There is no better place to celebrate Eid Al Adha this year than Yas Bay Waterfront, with a dazzling fireworks display every night lighting up the Abu Dhabi skies for the joyous occasion from July 9 to July 12.
Movie fans will watch their favourite on-screen stars daily for the entire month of July at Warner Bros. Abu Dhabi, Curio Collection at Hilton's Dive-In Movie Nights. Featuring blockbuster screenings at the pool bar, cinematic magic in all its glory awaits every night from 7pm onwards.
Fully air-conditioned indoor theme park Warner Bros. World Abu Dhabi is set to add some superhero flair to summer as DC Superhero Season kicks off in August. All the way until September, Superman, Batman, Wonder Woman, The Flash and more will bring justice to the world's biggest venue of its kind.
Guests are invited to celebrate 80 Years of Tweety, the beloved Looney Tunes canary, from September 10 to 25 at Warner Bros. World™ Abu Dhabi.
Yas Island visitors are in for a mesmerising October, with spooky Halloween nights every weekend. From trick-and-treat evenings to scares at every corner, Warner Bros. World's spookiest times will unfold—only for those who dare.