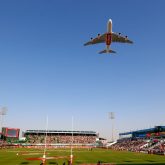 The highly anticipated Emirates Dubai 7s, part of the HSBC World Rugby Sevens Series, is set to take place over the 51st UAE National Day weekend from Thursday 1st to Saturday 3rd December. The first day of the HSBC World Rugby Sevens Series will take place on Friday, and will be celebrated by a breath-taking Emirates Airline A380 flypast at 4pm. Tickets for Friday's event are available at https://dubairugby7s.com
The 2022 edition of the rugby festival will deliver an amplified experience for all in attendance with additional entertainment stands and activations for children and young adults, including a new Hops & Food Market, the invitational team party tent, as well as a new stage called 'The House'. With over 100,000 fans expected to attend this year's festival, fans and visitors can look forward to an exciting weekend of music alongside the rugby action on Pitch 1 and 2.
Children of all ages are in for a treat with a series of fun activities across three Kids Zones that will be available throughout the festival from 9am – 7pm, including arts and crafts, meet and greets with cartoon characters, bumper cars, face-painting, go-karting car racing, inflatable parks, and more. Kids under 12 even get complimentary access to the Emirates Dubai 7's.
From entertainment crews roaming around the venue to interactive setups and different genres of music playing from popular DJs across all zones at the festival, the entertainment options are endless for each member of the family.
Fans and ticketholders visiting on Friday can enjoy thrilling rugby matches across two pitches kicking off at 9am with Ireland competing against Spain in women's Pool C as well as an exclusive concert by international headliner and famous duo, Gorgon City at Frequency on 8, in addition to live cover bands at Rugby Rocks.
Guests can enjoy all the happenings through a variety of ticket options – from single-day access to luxury hospitality packages. Ticket options for the sporting weekend include the ultimate Hangar Hospitality for an upscale and all-access experience, Weekend General Admission and Weekend Reserved Seating, as well as single-day tickets that are available in limited quantities. Children under 12 years of age gain free entry during the weekend.
Participation in sports is also growing at the festival, with the addition of a new fitness competition, WODON3, an inclusive fitness competition for fitness elites as well as novice athletes looking to push their limits. This will join the Invitational Tournament favourites of Rugby 7s, 10s, Netball presented by Nakheel Community Management and Cricket presented by Dulsco, featuring male and female participants from 32 countries. Children under 12 years of age gain free entry during the weekend.
Ticket prices start at AED 375 for the Single Day General Admission tickets and for an additional AED 100, fans can experience three days of action-packed sports and entertainment with the Weekend General Admission tickets.
For the latest news and updates or to purchase tickets, please visit https://dubairugby7s.com or @dubai7s on Instagram.