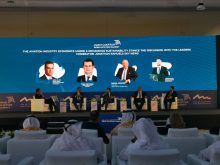 Offering abundant opportunities for knowledge-sharing and networking, the summit has converged a distinguished gathering of the global aviation community to address opportunities and challenges in the industry and discuss and collaborate on ways to further propel the ongoing momentum driving the Arab aviation and tourism industry. The opening day features discussions and debates on sustainability, the economic outlook, and how disruptive technologies will shape the next generation of aviation and travel. Local leaders and global industry stalwarts  fostered healthy dialogue on the way travel impacts the environment and deliberate the way forward by exploring decarbonising pathways and sustainable business models to boost the continuous growth of the sector.
Mikail Houari, President, Airbus Africa and Middle East, said: "Sustainability is at the core of our purpose as we continue to pioneer disruptive technologies and clean fuel alternatives. Collective efforts from all industry stakeholders are required to ensure we continue to drive greater sustainability. We look forward to the summit, exchanging ideas with other industry experts on how we can work together to make air travel more sustainable for future generations."
Raki Phillips, CEO of Ras Al Khaimah Tourism Development Authority, said: "As we continue to place sustainability at the heart of our development, we are seeing industry players across tourism and aviation prioritise environmentally conscious and purpose-driven operations. As the Arab Aviation Summit brings together leading regional and global players, we look forward to exploring innovative collaborations, solutions, and best practices to collectively unlock the full potential of a decarbonised future."
Cementing its status as the "voice of the industry", the 10th Arab Aviation Summit will showcase industry insights and outline scalable solutions that can make a tangible difference to the sustainable transformation journey of stakeholders in the industry. Strategic sector discussions will also highlight curated and innovative products, services and initiatives that are currently changing the way people travel. Other significant topics addressed at the summit touch upon the fundamentals of airline economics under the pillar of sustainability, the role of advanced air mobility in shaping airlines, airports and travel operations, the growing prominence of travel destinations in the Middle East, and the rising opportunities in the industry ecosystem.
Hosted in collaboration with Ras Al Khaimah Tourism Development Authority, AAS 2023 is the world's first aviation and tourism event to calculate carbon emissions. The event is supported by global industry partners such as Airbus, CFM, Collins Aerospace, Turkish Teknik, T3 Aviation Academy, and others.