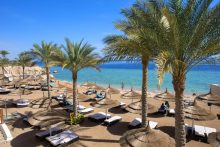 SUNRISE announced expansion plans for the year at Arabian Travel Market 2022 in two areas one in Zanzibar and another in Sharm El Sheikh. This will be in addition to the two newly added resorts in addition to the 5 the group already has, the first will be Meraki. Following the great success of Meraki Hurghada serving as the first boho clubbing resort in the city, SUNRISE decided to open a new branch in Sharm El Sheikh with an extra serving of royalty. Applying a brand-new concept; the futuristic concept in the second resort to open in Sharm El Sheikh, White Hills, located also in Ras Nasrani. The resort implements the driven concept in every tiny detail featuring a set of exclusively selected amenities, outlets and interiors. SUNRISE will witness this year for the very first time, its expansion outside Egypt; a hotel located in Zanzibar. Executing the tropical, coast style, the modern yet earthy resort will behold a long-awaited opening.
SUNRISE Resorts & Cruises was founded in 2002 by Egyptian entrepreneur Hossam Gouda El Shaer. Since then, SUNRISE Resorts & Cruises kept developing and expanding within Egypt serving various markets from all over the world. Today, SUNRISE stands as one of the top leading hospitality chains in the region with highly valued guest experience.
SUNRISE group currently owns and manages 20 resorts and 7 cruise ships scattered among the most authentic locations in the prominent touristic cities of Sharm El Sheikh, Hurghada, Ain Sokhna, Alexandria, Luxor and Aswan.
Our continuous dedication and non-stop consistency greatly helped in the challenging period of Covid-19. The year 2020 was more of an interval of devoted planning in which we strategically worked on. As a result, SUNRISE portfolio has expanded by 4 more resorts in the year 2021. We opened 2 new neighboring resorts in Sharm El Sheikh, located in the world-famous diving spot, Ras Nasrani; SUNRISE Remal Resort and SUNRISE Remal Beach Resort.
Another resort that was opened in Hurghada, in the heart of Makadi Bay is SUNRISE Tucana Resort. The boho-chic resort has been witnessing an extensive success and never-ending positive feedback as a result of its set of amenities created with a touch of luxury as well as the premium all-inclusive concept. Last but not least, we opened the first boutique hotel in the heart of Ain Sokhna, Tanoak Hotel, located only an hour away from Cairo.
As a part of our 2020 planning strategy, we widely invested in renovating and modernizing our properties in terms of their amenities, facilities, services and personnel trainings.