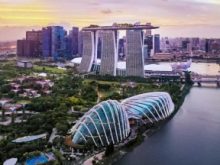 The Singapore Tourism Board (STB) is partnering with leading forum organiser Intelligence Squared to stage a forum at Expo 2020 Dubai. Presented under the STB's SingapoReimagine Global Conversations series, it aims to spur thought-leadership conversations on the future of travel and tourism. The SingapoReimagine Global Conversations which was launched in Singapore last year, encourages global industry leaders to exchange ideas and explore collaboration opportunities to reshape travel. It also highlights changing consumer behaviours as well as the latest trends and observations on travel and tourism.
The Dubai edition is titled Reimagined Cities: Can cities leverage urban design and technology to attract the next generation traveller?. Taking place from 3.30pm to 5.00pm on Saturday, January 22, 2022 in the Terra Auditorium at Expo 2020 Dubai, the expert panel will dive into the shifts in global travel trends and what the next generation would want from a destination. Placing the spotlight on urban design and technology, these conversations will challenge traditional ways of destination marketing and discuss exciting trends within the travel and tourism industry.
Starring a line-up of industry experts, the discussion will include insightful inputs from Dr. Barkathunnisha, Co-Founder, World Women Tourism and Founder of Elevated Consultancy & Training; Michael Magill, Managing Director, RSP Architects Panners & Engineers (Pte) Ltd Middle East; and Xavier Anglada, Managing Director at Accenture – Innovation, Digital Transformation, Energy Transition.
The session will be moderated by Sarah Khan, recently appointed Editor-in-Chief of Condé Nast Traveller Middle East. Representing a new generation of modern travellers, Sarah brings a contemporary and global perspective to the travel industry and will be leading discussions on future of travel with a special focus on sustainability.
The panel will cover a variety of topics, including how the tourism sector can adapt to changing consumer preferences by employing artificial intelligence and technological innovations. For example, touchless technology can be used to facilitate a seamless visitor journey, while augmented reality can provide immersive navigation services and bridge language barriers.
The panel will also share how cities are creatively deploying architecture to design tourist attractions of the future – from championing sustainable, green buildings to incorporating bold and contemporary urban design features. It will also explore how sustainability is influencing where people choose to travel to, where they stay and how destinations are transforming in tandem with these needs.
Beverly Au Yong, the Singapore Tourism Board's Area Director for the Middle East, said: "We are pleased to partner with Intelligence Squared for this edition of the SingapoReimagine Global Conversations at Expo 2020 Dubai. We look forward to hearing more from the panel and tap into their expertise in sustainable travel, technological innovations and urban design. We hope these conversations can provide useful insights to help businesses shape their recovery strategies, so that the travel industry can bounce back stronger than ever."
Matt McAllester, CEO of Intelligence Squared, said: "We are excited to be launching this series and supporting Singapore Tourism's mission to become a thought leader in the field of sustainable travel and green tourism".