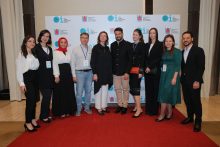 115 trade partners gathered for the St.Petersburg roadshow in Riyadh. The guests were welcomed by Arbi Abubakarov, Deputy Chairman of the Committee for Foreign Relations of St. Petersburg, Stanislav Yankovets, Trade Representative of the Russian Federation in the Kingdom of Saudi Arabia, Deputy General Director of the City Tourist Information Bureau of St. Petersburg Yulia Bondareva. The welcome speeches were followed by the presentation of St Petersburg and the travel partners from St Petersburg, among whom was General Director of the Northern Capital Gateway Company (operator of the Pulkovo airport) Leonid Sergeev.
The road show "Visit Saint Petersburg!" ended in Saudi Arabia. The road show program, formed on the initiative and with the participation of specialists from the tourism industry in St. Petersburg and organized by the Committee for Tourism Development of St. Petersburg and the City Tourist Information Bureau, included a series of workshops in Riyadh. Participants of the hospitality industry of the Northern capital presented their programs and established direct contacts with Middle Eastern colleagues. There was also a discussion of the possibility of establishing direct air communication between the Kingdom of Saudi Arabia and St. Petersburg.
The representatives of the tourist business of the region got acquainted with the novelties of St. Petersburg, classic programs, the new tourist geography of the city on the Neva river. Road show visitors learned about the historical sights of St. Petersburg, architectural masterpieces, the event calendar, educational and religious routes, and much more. Particular attention was paid to the organization of direct flights to the northern capital. The presentation attracted the attention of representatives of tour operators and professional associations, airlines, organizers of MICE events and specialized media from the Middle East.