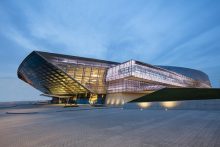 Pioneer in hosting large-scale international events in the region, city of Baku will once again take a central stage by hosting the 74th International Astronautical Congress on October 2nd-6th 2023.
Being the main event venue, Baku Convention Center will be the hub for global space communities to exchange the most recent space developments and discuss the global challenges and opportunities for the space industry. The ultra-modern halls of the Baku Convention Center will bring together more than 5000 international and local official delegates and high representatives, space academia scholars, students and association members in a comfortable ambiance and professional setup.
With its dazzling architecture and cutting-edge solutions to any arising issue, BCC will pave the way for the Congress/IAC to celebrate its event success again following its first visit to Baku right 50 years ago organizing 24th edition of the IAC.
Known for its potential in managing loaded traffic flow and phenomenal flexibility, Baku Convention Center is excited to host the world's premier global space event, bring together like-minded space actors and celebrate space triumphs altogether!