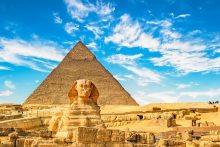 Skyscanner announced the trending destinations for Eid Al Fitr 2021 and the extended summer period. The research demonstrates that the time is now for travel, as MENA travellers are eager to travel safely and responsibly as soon as they can. The top searches for travellers within the UAE and Saudi Arabia during the Eid period included Cairo, Amman and Alexandria for families, whereas groups are turning their attention to Ibiza and Malaga and couples are looking to go to the Maldives, Mauritius and Santorini. For UAE travellers, staycations are still prioritized, with Abu Dhabi, Fujairah or Ras Al Khaimah proving popular.
According to Skyscanner's recent travel trends report – 'Skyscanner Horizons – The Return of Travel' – that revealed the top trending destinations globally, Dubai was ranked the 4th most popular destination, likely driven by travellers looking for a holiday, as well as wanting to reunite with friends and family to celebrate Eid.
The comprehensive report also highlights that travellers are making their holidays count, as the global average trip length is 16 days in 2021 – two days higher in comparison to 2019 averages. This is a result of shorter journey times as travellers opt for trips that are closer to home, particularly from June to September, with longer trips in October 2021. In 2019, the average journey time from June to October was 11 hours. This has fallen to 10 hours in 2021.
Ayoub El Mamoun, Global Travel Expert at Skyscanner shares his tips on how to bag a good last-minute deal and plan ahead for future travels, "Safe and responsible travel remains a key topic for MENA consumers and with travel beginning to re-open across the region, travellers are eager to getting back out to explore again, as safely as possible. With the ever-changing travel restrictions, we're seeing more and more travellers wait until the last minute to book travel. But it can be daunting for anyone thinking about a last-minute break to book with peace of mind. The best way to make sure you're covered is purchasing a flexible ticket – you can use the Flexible search filter on Skyscanner to select flights with policies that entitle you to a refund, while others let you rearrange for another date if circumstances change. Travel insurance and the right level of cover is also more important than ever – make sure any existing policy you have in place covers you for the travel you are looking to book."