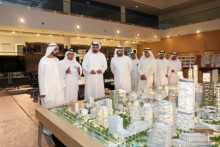 Vice President and Prime Minister of the UAE and Ruler of Dubai, H.H. Sheikh Mohammed bin Rashid Al Maktoum, has launched Jumeirah Central, an urban mixed-use city district expected to become a comprehensive model for future urban planning in Dubai and around the world.
The all-season city district will comprise 9 million sq ft of retail space including three malls, 4.5 sqft of outdoor shopping space and supported by more than 44,000 car parking spaces. A unique tourism destination, Jumeriah Central will offer 7,200 hotel rooms; the largest number of hotel rooms centred in one district. The district will be home to 35,000 residents and will host 100,000 people annually. It will be connected by a comprehensive cycling network that spans over 33 parks and open spaces.
Commenting on the announcement, H.H. Al Maktoum said: "As our vision for future cities evolves, Dubai will continue to set the benchmark for city development across the globe. Jumeriah Central is a clear milestone in our journey towards building the city of the future and the creation of engaged and happy communities. We will not stop investing in our economy, and these projects are tools to expedite that journey of growth. We are confident in the strength of our economy and are optimistic for the future of our nation. To that end, our vision will continuously evolve and expand."
The Jumeirah Central masterplan is a product of the collaborative work of over 19 government and private agencies, international experts and consultants under the leadership of Dubai Holding over the last two years. Jumeirah Central will have smart world-leading infrastructure that includes a multi-modal transport network, environmentally-friendly transport options and aerial gondolas. The district, of which over half will be open space, will offer 1 million sqft. of climate-controlled arcades for all-season lifestyle and a comfortable pedestrian experience. The district is located on Sheikh Zayed Road with 25 points of vehicular access. Residents of Jumeriah Central will enjoy a self-sufficient and holistic mixed-use experience, through a range of facilities including; schools, offices, parks, shopping centres, smart police services and comprehensive community amenities.