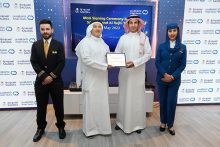 Saudi Arabian Airlines (SAUDIA) and Saudi insurance company, Al-Rajhi Takaful have signed an agreement ensuring that guests traveling from the Kingdom have access to a comprehensive travel insurance policy which they can secure online. This partnership highlights SAUDIA's commitment to expanding its after-sales services while enhancing passengers travel experience. The signing took place at SAUDIA's Headquarters, in the presence of Captain Ibrahim Al-Koshy, CEO of SAUDIA, and Mr. Saud Ghonem Bin Ghonem, CEO of Takaful Al-Rajhi Insurance Company.
Under this agreement, SAUDIA guests traveling from the Kingdom to various parts of the world will be equipped with a comprehensive travel insurance. SAUDIA guests will receive special prices on the travel insurance. The service can be used digitally during the completion of travel procedures through SAUDIA's website (www.saudia.com) and smart phone application, the link will then direct users to the Al-Rajhi Takaful system to complete the process and benefit from a range of services, including cases of emergencies and claims.
Captain Ibrahim Koshy, CEO of SAUDIA said: "At SAUDIA enhancing guest experience and providing them with the best services is one of our main priorities. This includes our partnership with introducing Al Rajhi Takaful as we are witnessing increasing demand, indicating that what distinguishes this service is the ease of transition between SAUDIA and Al Rajhi Takaful systems. This agreement ensures the facilitation of the travel insurance purchasing process, while providing direct support to our guests to ensure their comfort and guarantee a travel experience worth repeating. These services, among others, are constantly reviewed and evaluated, while utilizing guests' feedback to undertake developments that meet their expectations".
Saud Ghonem Bin Ghonem, CEO of Takaful Al-Rajhi said: "This agreement aligns with the company's vision and objectives in providing exceptional care and assistance through innovative and reliable solutions, specifically through the Travel Insurance service. Recognizing the importance of comfort while traveling, we are committed to offering premium coverage to both Saudi citizens and the guests of SAUDIA through the 'Travel Insurance' service, allowing them to enjoy their travel experiences while ensuring them peace of mind in case of any unfortunate events and we look forward to working as one team with SAUDIA."