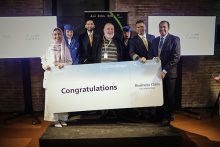 Saudi Arabian Airlines (SAUDIA), the Kingdom's national flag carrier, has hosted a special roadshow event in Barcelona, Spain in the presence of His Excellency Mr. Ehab Mohammed AlNajjar, Minister Plenipotentiary of the Saudi Embassy in Spain, on behalf of His Excellency the Ambassador of the Kingdom of Saudi Arabia to Spain, Mr. Azzam Al-Qain, with the goal of promoting the Kingdom as a leading global tourist destination. The roadshow, which comes as part of the global campaign Fly to Your Next and was held in collaboration with the Air Connectivity Program, showcased Saudi Arabia's numerous exciting travel and tourism projects and invited travel agencies to learn more about the world-class attractions visitors can experience in the Kingdom.
The special event highlighted the latest marketing campaigns for tourism events and programs, including both current and planned initiatives. The Saudi Tourism Authority and tourism megaprojects including NEOM took center stage during the presentation. Invited guests were also familiarized with the benefits SAUDIA provides through its SAUDIA Holidays platform, which offers full packages including flight tickets and hotel reservations, as well as opportunities to book vehicles, tours, and excursions. The national flag carrier's campaign comes as part of its ambitious plan to bring the world to Saudi Arabia. As the 'Wings of Vision 2030', the airline aims to take the campaign to many countries across Europe, as well as the United States and other key markets.
SAUDIA highlighted its continuing collaborations with the Ministry of Tourism, the General Entertainment Authority, the Ministry of Culture, and the Ministry of Sport. The airline is a strategic partner in transporting participants and visitors from across the globe to leading events in the Kingdom and operates a vast network of routes spanning four continents using its state-of-the-art fleet.