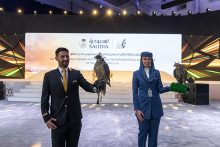 Saudi Airlines (SAUDIA) has initiated the next phase of an ongoing agreement with Saudi Falcons Club to become a Strategic Partner and the Official Carrier for the International Saudi Falcon and Hunting Exhibition. SAUDIA's presence at the 10-day expo, which kicked off in Riyadh on Thursday, Aug. 25th, comes as part of the airline's effort to be present at a variety of events and activities that enhance cultural development and promote Saudi Arabia's rich falconry tradition. Guests attending the exhibition will have the opportunity to redeem a promotional up to 20% discount on a wide range of travel packages through SAUDIA Holidays. Guests can plan the perfect holiday getaway that includes a wide range of flight, accommodation, and service options, including vehicle rentals and tours.
Moataz Alandijani, General Manager of Partnerships and Sponsorships at SAUDIA commented "We are very pleased with what was achieved last year with Saudi Falcons Club and we are proud to extend the strategic partnership for the next 3 years, and our participation comes as part of SAUDIA Group's contribution to supporting all heritage, culture and sports event.
The CEO of the Saudi Falcons Club, Hussam bin Abdulmohsen Al-Hazaimi, affirmed the club's endeavor to expand the agreements with all strategic partners to serve those interested in falconry. He stated, "The Saudi Falcons club is proud to sign the partnership agreement with SAUDIA Group and contribute to supporting and serving the cultural and local heritage of Saudis."
The strategic partnership signed at the exhibition marks the three next years of the on-going agreement between SAUDIA group and the Saudi Falcons Club. The agreement encompasses additional sponsorships and official carrier status for various other events as well as the club's participation at events abroad.
The International Saudi Falcon and Hunting Exhibition is the largest falconry, hunting, and hunting gear exhibition in the world. The exhibition includes many educational and recreational activities designed to highlight the Kingdom's heritage and national identity, in addition to promoting the exciting world of hunting and falconry. The exhibition brings together hunting fans and professionals from more than 50 countries in an enlightening and collaborative environment.