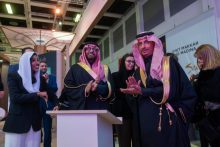 Saudi kicks off its first participation at ITB Berlin, the world's biggest travel show and convention, celebrating key milestones for Saudi's tourism growth story and showcasing the breadth and depth of Saudi's extraordinary destination offering.
In the run up to the event, Saudi hosted members of media at the press conference session "Unexpected Arabia: Discover Saudi," on Monday 6 March, giving a preview of Saudi's diverse offerings and developments.
During the week there will be interactive on-stand experiences, bringing to life the rich culture and heritage of one of the world's last frontiers of tourism. Visitors will have an opportunity to immerse themselves in the authentic home of Arabia, to feel the unparalleled hospitality for which the country is known.
As the largest exhibitor at this year's edition of ITB Berlin, a record number of partners for Saudi are on the stand showcasing a record number of bookable products for the destination (200+) spanning experiences, packages, hotels, and cruises for trade partners.
This presence reflects the incredible growth the country is witnessing. Since opening to tourism in 2019, Saudi has been recognized as the world's fastest-growing tourism destination in the G20. With an extraordinary +121% increase from pre-pandemic international tourism levels, Saudi achieved 93.5 million visits in 2022 and is outpacing global tourism sector recovery as recognized by the UNWTO. As the world's biggest investor in tourism, Saudi has committed $550bn to new destinations by 2030.
Preserving heritage and history, a $50.6 billion masterplan will transform Diriyah, a 300-year-old city and birthplace of Saudi, into one of the world's most exciting cultural sites. In 2023, Red Sea Global, the world's most ambitious luxury tourism development, will debut its first hotel openings: Six Senses, St. Regis, and Nujama – a Ritz-Carlton Reserve, a monumental development in Saudi's sun and sea offering.
Saudi's participation at ITB Berlin is a commitment to the European market as STA increases its presence to facilitate trade development. There are unparalleled opportunities in the German market for initiatives like Nusuk, an integrated digital platform to facilitate seamless Umrah journeys. At the Saudi stand, visitors will hear from the STA CEO during Saudi Talks, in conversation with the world's largest independent travel agency, Lufthansa City Center, and will be able to experience a taste of authentic Saudi hospitality, or "hafawah," at a Saudi coffee and date pairing session.
Fahd Hamidaddin, CEO and Member of the Board of Saudi Tourism Authority said: "Saudi is growing at the speed of light, transforming at a scale and pace the world has never witnessed before.
"Last year, we recorded 93.5 million domestic and international visits and in January this year achieved a record number of inbound overnight visitors. We continue to gain momentum on this growth journey and it is critical that we inspire and engage our partners to join us as we reinforce our commitment to the sector globally. Our first participation at ITB Berlin is our biggest presence at an international event to date, bringing the best of our dynamic tourism offering to showcase what is unexpected about Saudi while also highlighting the diversity, beauty, hospitality and energy of the destination."
Saudi is reimagining tourism to welcome 100 million visits by 2030. Driving forward ambitious tourism goals, the destination has already celebrated key milestones including the official opening of Bujairi Terrace and At-Turaif late last year.
Saudi aims to increase international air connectivity from 140+ cities to 250+ cities by 2030. Through exceptional partnerships, Saudi is creating increased travel options and competitiveness to expand consumer choice and drive down costs. An exceptional partnership with Wizz Air launched 24 new routes from Europe to Saudi, and in January 2023, the first-ever free 96-hour stopover visa was launched through national carriers SAUDIA and flynas.
In 2022, Saudi extended eVisa regulations to GCC countries and visas on arrival to holders of valid US, UK, and Schengen visas.