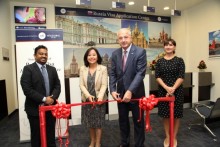 In a move to enhance visa application services to travellers from the United Arab Emirates (UAE) to Russia, VFS Global, in partnership with the Consulate General of the Russian Federation, launched the first Russia Visa Application Centre in the Middle East region, in Dubai. Services at this centre commenced from January 22, 2017. Residents of the UAE can visit the new VFS Global centre to submit their visa applications to Russia in a comfortable and professionally managed environment. The centre is centrally located at WAFI Mall, Level 2, Falcon Phase 2, Umm Hurair 2, Dubai.
VFS Global has partnered with the Government of the Russian Federation since 2009, and serves them in 15 countries from 34 visa application centres globally. Over the last one year alone, the company has rolled out Visa Application Centres in 10 other countries for this client government. In Dubai, VFS Global serves a total of 23 client governments, having been present in the country since 2004.
Speaking at the launch, Gocha Buachidze, Consul General of the Russian Federation in Dubai and Northern Emirates, said, "As the number of visa applications to Russia from residents of the UAE continue to grow year-on-year, the Government of the Russian Federation aims to provide quicker and more convenient services to travellers to Russia. We are confident that VFS Global and its professional staff will do everything to expedite and secure swift application procedures and extend world-class services to our visa applicants from Dubai. We look forward to the continual advancement of travel and business to our country and we are confident that this new centre will effectively meet the growing visa demand from applicants."
Added, Mr Vinay Malhotra, COO – Middle East & South Asia, VFS Global, "Our long-standing partnership with our esteemed client government, the Russian Federation, over the last seven years, is reflective of the trust they have bestowed on us through this successful relationship. We are privileged to further extend our network for them in Dubai and remain committed to providing comprehensive end-to-end visa services for applicants".