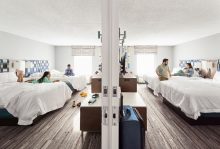 Just in time for the long weekend, new research conducted by Hilton shows that extra-large holidays are set to boom as UAE residents and citizens invite friends and family away with them. The majority (89 per cent) of adults in the UAE say the events of the past 18 months has made them re-evaluate what is really important. Three quarters of parents (75 per cent) said their children had missed out on seeing grandparents, aunts, uncles and cousins during 2020 and 2021, with 83 per cent keen to make up for lost time in the future. As a result of the extended time apart, the UAE is set to embark on an era of multi-generational holidays, with the vast majority (89 per cent) likely to go away next year with extended family members such as siblings, cousins and grandparents.
Of the respondents who had family abroad, 80 per cent confirmed their group holiday would involve visits to family overseas. Almost all (92 per cent) of those polled said going on an extended family holiday allowed them to reconnect with family members while enjoying a break, and 8 in 10 (80 per cent) said inviting more people along made childcare easier.
Hilton is the only major hotel chain that allows guests to confirm interconnecting rooms at the time of booking, providing a hassle-free solution to a decades-old problem for families and groups.
The most popular reason to have an XL holiday is to catch up with family members, followed by a chance to see relatives you don't often spend time with and allowing kids to play together while grown-ups relax. One third (33 per cent) of adults said holidays provide an opportunity for grandparents to spend quality time with their grandchildren, while 37 per cent said XL holidays are ideal for a special celebration. 74 per cent said holidays with lots of kids are more fun and more than three quarters (79 per cent) said they were willing to spend more on their next holiday to make up for having been unable to go abroad in 2020 and 2021.
The UAE is the most likely destination for an XL holiday (27 per cent), followed by the UK (23 per cent) and Turkey (20 per cent), and 80 per cent say that if they are holidaying with family members like young children, they are more likely to do things they wouldn't do otherwise such as visit a theme park, ride a jet ski and plan something more adventurous.