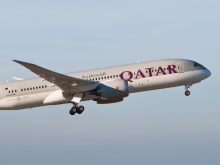 Qatar Airways has a steadfast vision to provide the best in-flight experience to its passengers. The airline has been eager to replicate the innovative AVANT experience on their Boeing B787-8 aircraft without disrupting the utilization of the fleet and minimizing down time during the retrofit installation. To achieve this ambition, Thales has developed an upgrade program to adapt the existing legacy system to incorporate new AVANT screens and servers into the existing seats and aircraft infrastructure. This turnkey approach includes delivery of full seat modification, hardware and all required certifications, as well as the ability to leverage media integration commonality across the Qatar Airways' fleet equipped with AVANT.
Salam Al Shawa, Senior Vice President, Marketing & Corporate Communications, Qatar Airways said, "As a leader of innovation within the global aviation industry, we are always looking for ways to further enrich our already exceptional 5-Star on board experience for passengers. With the latest in-flight technology, including lightweight screens, greater content storage and full HD touch screens, we are delighted to work with Thales in bringing the most advanced AVANT IFE system on board our Boeing 787-8 fleet."
Upgrading to AVANT IFE on the Boeing B787-8 fleet introduces the latest High Definition (HD), capacitive touch screen technology enabling passengers to seamlessly navigate the graphical user interface (GUI) using familiar gestures from their smartphone or tablet. The lightweight screens are two to three times brighter than the former technology, featuring more than 16 million colors for a brilliant viewing experience.