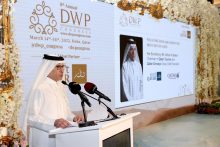 Qatar Airways and Qatar Tourism joined forces to partner with the highly acclaimed Destination Wedding Planners (DWP) Congress 2023, an exclusive event that brought the largest Business-to-Business platform for weddings to Doha. This collaboration underscores the city's growing stature as a key figure in the MICE industry, which continues to attract business travellers from around the world. The 9th edition of DWP congress was held from 14-16 March, to bring together leading wedding planner professionals who provided fresh perspectives on the industry through a series of keynote speeches and DWP masterclasses. Chairman of Qatar Tourism and Qatar Airways Group Chief Executive, His Excellency Mr. Akbar Al Baker opened the congress with a speech to spotlight Qatar's offerings as a versatile and captivating wedding destination.
Chairman of Qatar Tourism and Qatar Airways Group Chief Executive, His Excellency Mr. Akbar Al Baker, said: "Our continuous effort to promote Qatar as a leading destination that caters to the needs of all travellers has been further strengthened by the recent hosting of the Destination Wedding Planners Congress 2023. This event is regarded as the most prestigious B2B gathering in the multi-billion-dollar wedding industry, and we are honoured to have had the best wedding planners and designers in Doha. We eagerly anticipate welcoming them back following an inspiring visit this year, and look forward to seeing their vision for luxurious and elaborate weddings."
The DWP congress has grown rapidly since its inception in 2014, which took place in Greece, and has successfully made its mark in desirable destinations across the globe from Florence, Phuket, Los Cabos, Dubai and Bali. This year the congress highlighted Doha, a city that has undergone remarkable developments in hospitality, aviation, the service industry and tourist attractions. In the last year the country has hosted what is being called the greatest FIFA World CupTM, a mega-event which has made the country fully equipped to take on a wider range of global events.